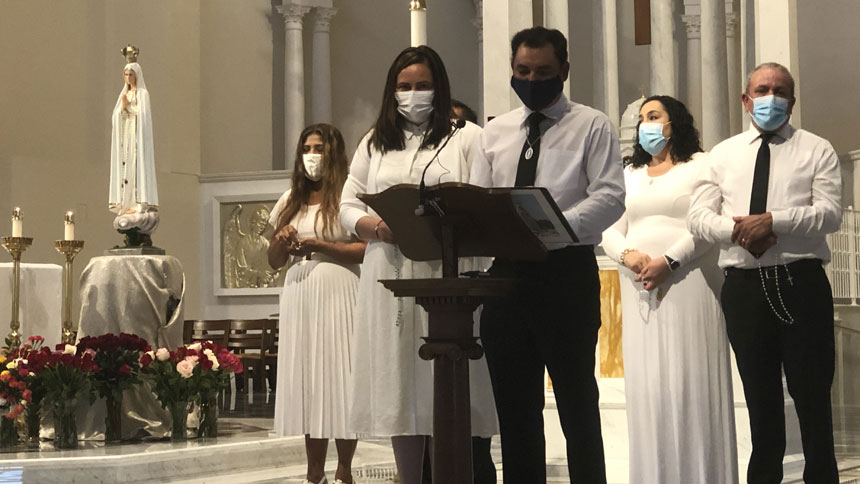 The Feast of the Virgin of Fatima marks the day when the apparition of the Virgin Mary appeared to three shepherd children in the region of Fatima, Portugal. Since that time more than 100 years ago, the Catholic faithful have visited the site to pray for humanity through rosaries and supplications to Mary.
At Holy Name of Jesus Cathedral in Raleigh, people gathered to pay homage and consecrate themselves to her to glorify her and her son, Jesus.
Members of the group, Comunidad Mariana de Catedral (Marian Community of the Cathedral), stood at the altar; women were dressed all in white and men dressed in black and white. They wore masks according to COVID-19 prevention protocols, and the main intention of their holy rosary prayers was to ask for the end of the pandemic, as suggested by Pope Francis during the month of May.
At the beginning of Mass, Father Juan Andrés Arturo González congratulated the Mariana Cathedral community for its year-long efforts to lead holy rosary prayers and to everyone who attended to show love and devotion to Mary.
During the Gospel, Father González highlighted that when Mary said, "Behold, I am the servant of the Lord; let it be to me according to your word," God reveals himself. "We consecrate ourselves to Mary to recognize the presence of Jesus in our lives," emphasized Father González, who also said that each holiday in honor of Mary is an opportunity to get closer to Jesus.
The members of Comunidad Mariana de Cathedral also presented those attending the ceremony with a prayer card with the image of the Virgin of Fatima as a reminder of her consecration. At the close of the Mass, in an emotional moment, Father González asked the attendees to raise their rosaries and images so he could bless them in a single prayer and thus consecrate everyone in the name of the Virgin of Fatima.