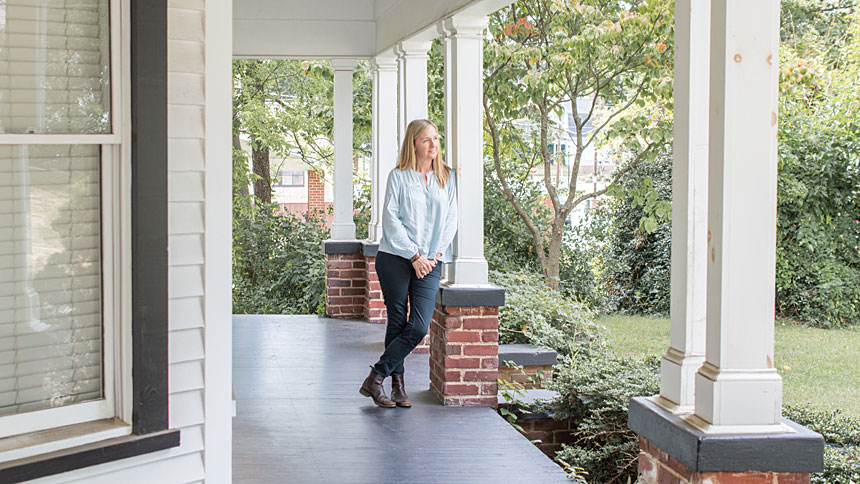 In a neighborhood in northeast Greensboro, a stately white house sits among oak trees. Except for the sounds of birds and passing cars, its front porch is quiet. Maybe the inside of the house is just as still?
Maybe not. Inside the home, mothers laugh, babies cry and the noise of the laundry units upstairs fills the communal spaces.
This vibrant place is the Room at the Inn, a Catholic non-profit organization and licensed home for homeless pregnant women and their children. It's the only one of its kind in North Carolina.
Marianne Donadio (pictured above) has been with the organization since its beginning, first as a volunteer and donor and now, nine years later, as the vice president of marketing and operations.
Donadio has the opportunity to work alongside her friend, Albert Hodges, who is also the founder and president of Room at the Inn. The pair met in the 1980s while praying outside an abortion clinic.
For both Hodges and Donadio, there was a disconnect in the early pro-life movement. Some Americans, they thought, had a gut reaction to the legalization of abortion in 1973 and made an immediate attempt to defend the lives of the unborn while unintentionally failing to also recognize the monumental needs of the expectant mothers.
"Once we started to look at the root causes, we were able to start combatting it in a more effective way," Donadio explains, referencing things like education, healthcare and affordable housing.
His vision for Room at the Inn was to provide single mothers that had little to no education and/or financial support the resources necessary for them to choose life.
Time, resources and prayer invested in the health and success of the mother are also invested in the child in utero.
"Without offering real help … we have no integrity as a pro-life movement," Donadio says. "Fortunately, more and more people are coming together to create a beautiful network of love that will one day end the tragedy of abortion."
Since its founding in 2001, Room at the Inn has been home to more than 350 mothers. Donadio, having been a young mother herself at 17, understands some of what these mothers are facing. However, she also acknowledges that her story has differences.
"I had supportive parents who took care of all my needs … I was extremely fortunate," Donadio says. "Many women who find themselves … [pregnant] are not so lucky, and I understood that for them to be able to choose life, they needed people to step up and help out."
As a young, expectant mother who often lived in friends' homes, Leah Sampson chose life during her teenage years.
She gave birth to her first son, Aden, in the fall of 2001. Sadly, he died just days after his birth.
When she got pregnant the second time during her sophomore year of college, she says the option to abort was present, but not appealing. With confidence and sureness in her voice, Leah says she told herself, "If God had gifted me one more time in this way, then who was I to choose if my son should live or die? In choosing life, I'm choosing more."
Sampson entered Room at the Inn's maternity care program, and on Sept. 9, 2004, she gave birth to her second son, Gabriel. She returned to college and earned her bachelor's degree. But she didn't leave the program. She, instead, took on another role.
Sampson stayed in the Room at the Inn's supportive community living home, Amy's House, and worked for the maternity home as a residential assistant. In May of 2009, Leah Sampson graduated summa cum laude from Bennett University, where she gave a speech to her graduating class. Her son Gabriel was in the audience.
After college, Sampson was offered a full-time job running Room at the Inn's second maternity home in Bluffton, South Carolina. She worked there and commuted to graduate school at Savannah State University to earn her master's degree in social work.
Today, Leah tells her story from a rocking chair. She's on the front porch of her new office in Knightdale, where she works as clinical director for a psychotherapy clinic.
Cars honk and early risers are out for a jog along the bustling road in front of her.
"Normally," she says, "this road is pretty quiet. We could go inside, but we haven't moved anything in quite yet, so it's pretty empty in there."
In some ways, her workspace is reminiscent of the Room at the Inn. It takes the contagious energy that can be found inside the maternity house and extends it to the rest of the world. It's a reminder that Leah once made a home for herself at Room at the Inn, and now she's opened the front doors of her life, where she works to shine her light on others.
Photos