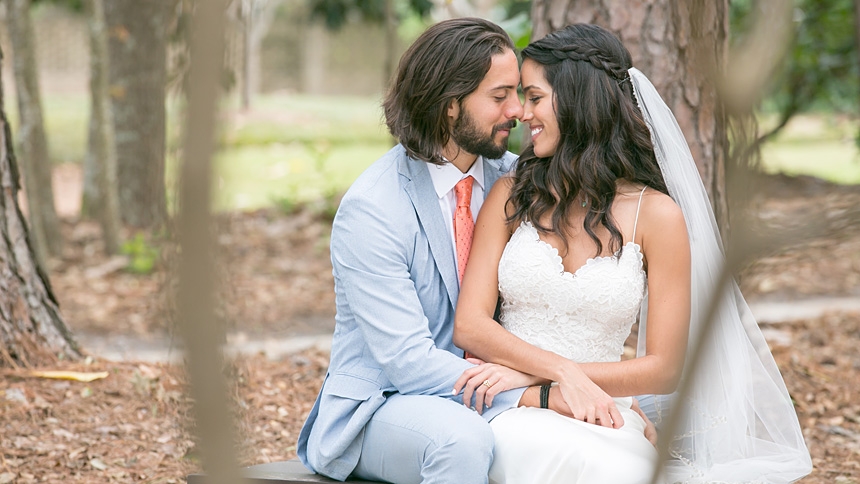 Above: Nicco and Erica Leone were married Oct. 20 after Hurricane Florence changed their original wedding plans. Photo by Jeff Poole.
From the moment the 'yes' is uttered, couples envision what their wedding will be like. They dream of giving each other, and their loved ones, a day to remember. They take months to plan everything from location to flowers, and meals to photography.
What happens when those plans get washed away? Two North Carolina couples answered that very question last fall when Hurricane Florence altered their plans. For Josh and Lauren, and Nicco and Erica, blessings followed the storm.
Lauren and Josh Beil
Lauren Beil grew up in Morehead City, a town on the Crystal Coast known for its sailboats and seafood. She envisioned a coastal wedding and reception.
"Water has been a huge part of my life, so I couldn't have imagined a wedding that didn't incorporate that," she said.
Water would indeed play a huge role in her wedding day, just not in the way she hoped.
Featured as part of the Nov./Dec. Humanity in the Hurricane story, Lauren and Josh Beil had planned a Sept. 15, 2018 wedding. It was also, it turned out, the Saturday that hurricane Florence was scheduled to land on North Carolina's coast.
In the days before projected landfall, Lauren watched forecasts and remained hopeful. She had seen her fair share of projected hurricanes that either fizzled or shifted substantially.
But, on the day of her wedding portraits, the call for a mandatory evacuation was made, and she knew things were serious.
"I think I knew right away that if we had to move it, we'd move it to Durham [where Josh's parents live] and things would be OK," Lauren said.
At the forefront of their minds was the joy of starting their lives together.
"Regardless of what happens, we were going to be married on that day," she said.
Gone were the plans for separate coastal cottages for bridesmaids and groomsmen to prepare for the wedding in.
Instead, the group has incredible memories of one family home brimming with loved ones, laughing, visiting and shouting directions up and down the stairs to ensure the couple didn't see one another before the walk down the aisle.
"It was better than anything we could've imagined," Josh said, reflecting on how many people contributed to an entire wedding being re-planned in one week. "Despite all the changes and things we would not have chosen, seeing everyone come together, seeing people travel into the storm just to be with us. That was really great."
Nicco and Erica Leone
Couple Niccolo Leone and Erica (then) Afanador liked the way that the date '10-20' sounded for their wedding. They also liked the idea of hosting the event on Bald Head Island.
"When Erica and I were first starting our relationship, we had some great weekends on Bald Head. It was a very memorable place for us and somewhere we wanted to bring our extended family. A destination wedding on this cool island, we had a whole vision for it," Nicco said.
They arranged rented houses for more than 100 wedding guests, and secured enough golf carts for each guest to be able to get around the car-free island.
But when hurricane Florence left the island flooded, that vision was washed away.
Drone footage of a flooded island, and ultimately, a phone call from the reception venue saying that the damage was just too great, left them looking at eight months of work that would need to be completely scrapped and redone in three weeks.
At one point, just after the cancellation, the engaged couple coordinated a conference phone call with their parents.
Nicco relayed the moment that set the tone: "I looked at how much 'heavy lifting' there was going to be and I said, 'This is going to be intense, should we just cancel it? And Erica said, 'If we cancel this, then that means that we are letting the hurricane beat us.'"
From that moment on, the couple welcomed hope, let go of expectations and kept sight on the sacrament of marriage and a bond that would be stronger than any storm.
The couple moved their wedding to Kenan Chapel at Landfall in Wilmington.
The venue had not previously been ordained as a site for a Catholic Mass, but with the help of a longtime family friend and a member of the clergy, they were able to receive a dispensation (or exemption from a rule) which allowed for a coastal wedding in a beautiful setting.
"It took a village," said Nicco describing how friends stepped forward and offered whatever they could to make this wedding unforgettable.
In a just a few weeks, Nicco and Erica went from wanting to give the perfect destination wedding to their loved ones to, instead, receiving the greatest wedding gift they could ask for in the loving support of their community.
The idea is crystalized for Nicco when he thinks about the flowers.
"The Thursday night before the wedding, my mom, my sisters, my aunts, Erica, her mom, her aunts, their friends … this inner circle of women came together in a home and spent hours together creating bouquets, corsages, boutonnieres. We found out that Erica's Aunt Barbara is a 'closet flower genius,' and was able to mastermind the whole thing," he said. "It was just incredible to have these amazing women from both sides of the family come together to make the venue and the day beautiful."