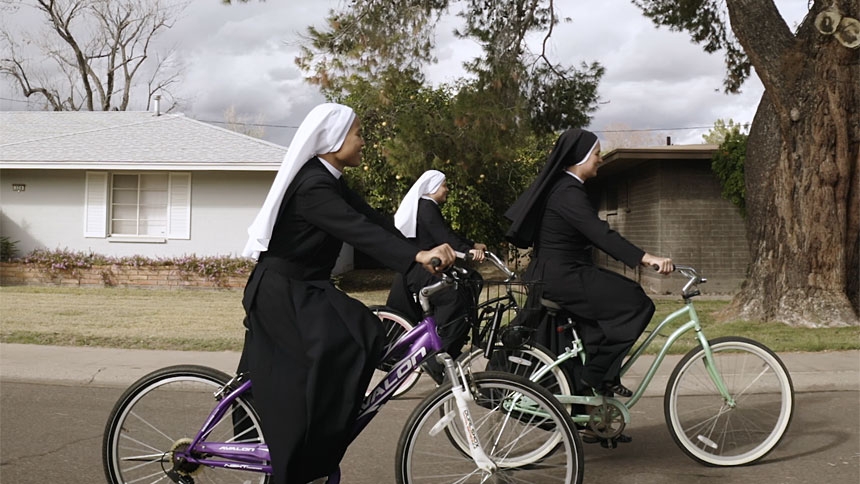 Photo courtesy of America Media
The Center for Applied Research in the Apostolate and America Media released last week a five-part YouTube series entitled "Beyond the Habit," which takes a look into the 300-year history of Catholic sisters in the United States. The videos showcase how the sisters shaped our nation's health care and educational systems—all while spreading the Catholic faith throughout our country. It then goes on to tell the story of six sisters living out their vocations today.
The first video in the series, narrated by the late Cokie Roberts, journalist and author, uses data from CARA's new book, Pathways to Religious Life, to illustrate the extraordinary history of Catholic sisters, from founding the Mayo Clinic and opening many of the first schools in the American West to brokering a peace deal with the famed outlaw Billy the Kid.
The remaining four videos, beautifully filmed and narrated in the sisters' own voices, profile six Catholic sisters, who describe their lives, their ministries and how they came to their vocations. These women candidly describe the joys and challenges of religious life and how they have learned to express their individuality in the midst of what was once seen as a restrictive lifestyle.
Underwritten by the Conrad N. Hilton Foundation, these powerful videos are available on the CARA website and on America Media's YouTube page for download and to share.
Sister Mary Ann Czaja, C.S.A, who works in Tarboro in the Diocese of Raleigh and has seen the videos, calls them a great overview of the reality of vocations today. 
"Walking with those we serve is today's reality as we minister. We incorporate a spirituality which embraces all of life, not a separation of life, ministry and prayer," she said. "We have and live out a holistic approach to the needs of humanity."