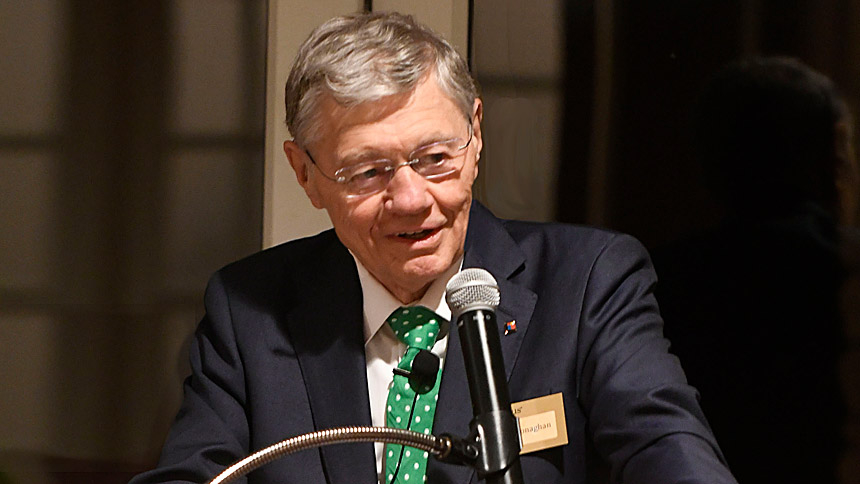 The Diocese of Raleigh is chartering a local chapter of Legatus, a member organization of Catholic business leaders.
Legatus was originally founded by Tom Monaghan (pictured above) after he met with Pope John Paul II in 1987. Monaghan founded Domino's Pizza in the 1960s and owned it until 1998.
According to Monaghan, Legatus was established to attract Catholic business owners, company presidents and CEOs. Its goal is to create an environment to nourish the faith of these leaders, while enhancing their marriages, families and businesses, he added.
In 1988, Pope John Paul II gave the commission that drives the lay ministry to this day. He said, "The world needs genuine witnesses to Christian ethics in the field of business, and the Church asks you to fulfill this role publicly with courage and perseverance."
Today, Legatus has over 5,000 members in 100 chapters throughout the United States and Canada, and it continues to grow. The Diocese of Raleigh is one of the newest chapters in the process of formation.
Charlie Dougherty, member of St. Michael Parish in Cary and owner of MRO Electric & Supply Company, first read about Legatus in the National Catholic Register. With no local chapter at the time, Dougherty and his wife, Shannon, joined as at-large members in 2000. They quickly realized the power of the group and dreamed of having a chapter close to home.
"For Shannon and me, it was the national events and pilgrimages where we saw that so many people wanted to bring Christ into everything they do … we wanted to bring that to Raleigh and connect people who are like-minded," said Dougherty.
Bishop Luis Rafael Zarama agreed that the time was right for Raleigh to create a chapter. At the time, Father Phillip Tighe volunteered to be founding chaplain. As his health declined due to cancer in 2019 and 2020, Father Tighe reached out to Father Daniel Oschwald and introduced him to the ministry.
"The fact that a chapter is being established in Raleigh is remarkable in that it really does reveal to us the continued growth of our diocese," said Father Oschwald, who currently serves as chaplain.
He also noted that Legatus is a "solicitation-free" zone, where seeking donations and money from members is not a focus. Rather, members are supported as they grow in faith and live their faith.
In addition to growing in his personal faith, Dougherty says Legatus helps him, and other business owners, find ways to bring their faith and Christ into the workplace. It's also important to note that the organization is formed by member couples. While it's not a requirement to be married to be a member, there is a defined goal within the ministry to help strengthen and support marriages.
"It's a husband-and-wife mission," said Dougherty noting that the events are fantastic date nights.
Monthly meetings are centered around the rosary and Mass. Dinner and a speaker follow Mass, and the sacrament of reconciliation is often offered. Catholics who are interested in Legatus are often invited to one of these monthly meetings prior to joining.  
In addition to local monthly events, members are invited to participate in pilgrimages, national biannual summits and small group forums.
For more information, or if you are interested in joining, please email raleigh@legatus.org.