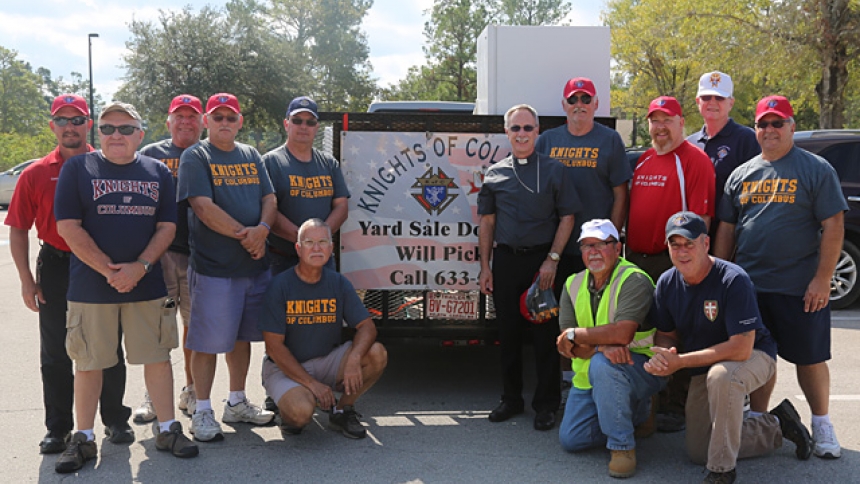 Above: Bishop Luis Rafael Zarama stands with Knights of Columbus from New Bern and Queens, N.Y., Oct. 16 at the Fairfield Harbour Community Center in New Bern. Knights unloaded two trucks full of supplies that will be used to assist those impacted by Hurricane Florence. Catholic Charities coordinated the effort. 
Impact
Twenty seven of the 54 counties in the Diocese of Raleigh have been identified as FEMA Disaster Declarations, meaning they are experiencing emergency situations that exceed the county's response capabilities.
Thirty parishes have sustained damage to church buildings, schools, parish centers, rectories and recreation areas. View a map indicating the impacted parishes.
"There has never been this much damage to this many churches from a single storm in the history of the diocese," said Art Wesche, director of Property and Construction. "We will continue to assist the parishes and schools with their rebuilding efforts."
In the wake of Hurricane Florence, the insurance company has sent adjusters to make initial damage and repair assessments at all 30 parish and other sites that incurred damage. The initial damage assessments (which are subject to change) show diocesan-wide damages of just over $11 million. Those sites incurring estimated damages of over $100,000 are listed below:
$5 million – Basilica Shrine of St. Mary, Wilmington
$1.45 million – Infant of Prague, Jacksonville
$800,000 – St. Egbert, Morehead City
$650,000 – St. Paul, New Bern
$500,000 – St. Mark, Wilmington
$450,000 – Annunciation, Havelock
$300,000 – St. Brendan, Shallotte
$275,000 – St. Therese, Wrightsville Beach
$275,000 – St. Mildred, Swansboro
$200,000 – St. Patrick, Fayetteville
$200,000 – St. Ann, Fayetteville
$160,000 – Maria Reina, Mt. Olive
$150,000 – Sacred Heart, Southport
$135,000 – St. Francis de Sales, Lumberton
$125,000 – Our Lady of Guadalupe, Newton Grove
Because the diocese partially self-insures for property related claims, the maximum out of pocket expense that any one parish should incur for this event is $1,000, as long as the claim itself is honored by the insurance company.
Recovery
Catholic Charities, a trusted partner in the community and critical to the recovery process, is present before, during and long after emergency situations. In the areas most affected by the storm, Catholic Charities operates offices in Fayetteville, New Bern and Wilmington.
"It has been devastating to see the damage caused by Hurricane Florence," Ms. Lisa Perkins, Catholic Charities executive director, shared. "We know it will be a long recovery process for families. We expect staff and volunteers to continue to help families impacted by Hurricane Florence for many years to come."
As of October 11, Catholic Charities of the Diocese of Raleigh has received $621,212 from direct donations from 43 states, parish second collections and grants received.
Since the storm, Catholic Charities is focused on distributing supplies. So far, supplies have been allocated to 15,000 individuals through 50 points of distribution across the impacted areas. As the need for supplies slows, Catholic Charities will begin focusing on helping families obtain safe and stable housing. This will happen through the distribution of financial assistance to pay for expenses, such as first month's rent and utility deposits, as well as through the work of NC Catholics Volunteer, who is participating in cleanup projects and will begin repairing homes once the cleanup work is complete. While cleanup work continues, NC Catholics Volunteer continues to repair homes damaged by Hurricane Matthew.
All funds donated to Catholic Charities for disaster relief are used for the purposes the donor intended and are not given to the Diocese of Raleigh for any other purposes.