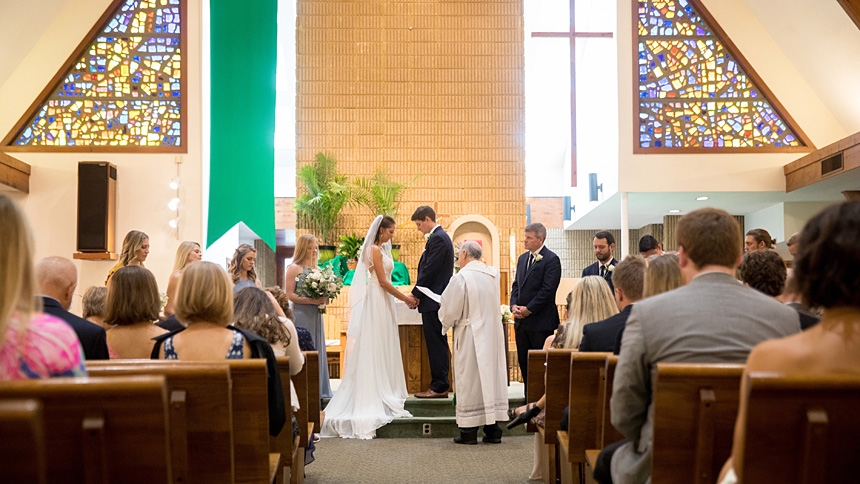 Lauren and Josh Beil
Morehead City
They planned their coastal wedding for 11 months. She looked forward to the house on the sound where she'd get ready for the day with her bridesmaids. He was excited for the vintage, double-decker bus that would take the wedding party from the ceremony in Morehead City to the reception in Pine Knoll Shores.
But, on Monday, Sept. 10, Lauren Smith got in her car after her bridal portraits and saw that an evacuation had been ordered for her county.
All the plans, it seemed, wouldn't come to fruition. The couple decided to not dwell on all the would-be plans, and instead they focused on what was truly important to them – a marriage.
"We planned on being married September 15, and we were going to do it, no matter what," she said. 
The priest for the ceremony, Father Dick DeLillio, O.S.F.S., had formerly been at Durham's Holy Infant Parish and recommended that church as a new location, a suggestion that worked neatly as Josh's family lives in Durham.
At an impromptu and informal rehearsal that took place three days before the wedding, Francine Britto, director of liturgy, asked the bride what music she wanted to walk down the aisle. When she answered, 'Canon in D,' Britto walked to the piano and played it.
Hearing that music, in that place, gave the bride a sense of calm and peace that she could carry through the week.
"Seeing people travel into the storm just to be with us was incredible," Josh Beil said. "It was just awesome, it was better than I could've imagined."
Read more Humanity in the Hurricane.