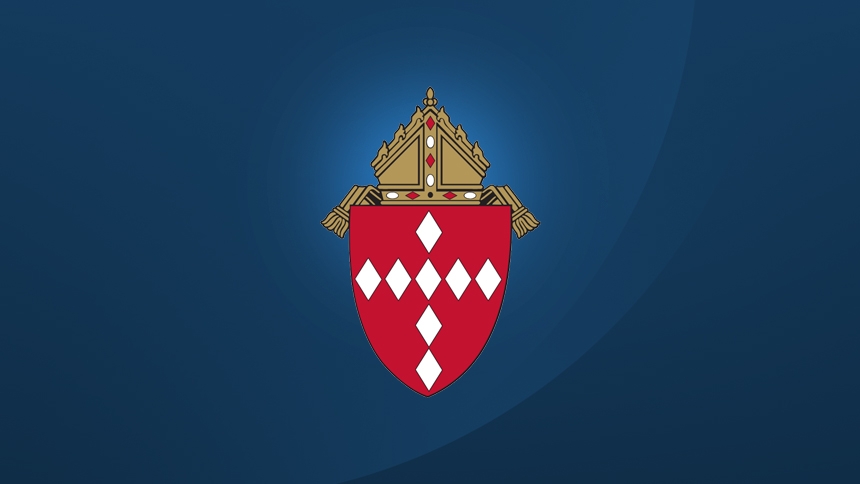 Bus after bus slowly approached Holy Name of Jesus Cathedral Monday morning, Sept. 25. And, one by one, people deboarded the large motor coaches. Some looked up to see the dome and the bell tower; others talked and gathered their things.
Nearly 1,000 of the faithful made their way to the doors of their new cathedral. Many, such as those from St. Mary Parish in Laurinburg, traveled almost 100 miles to be there for the Fayetteville Deanery Mass.
The special Mass was the second of its kind. The Tar River Deanery celebrated its Mass at the cathedral Saturday, Sept. 16. (In the Diocese of Raleigh, there are eight deaneries, and each is scheduled to have its own Mass at Holy Name of Jesus Cathedral.)
Father Stephen Shott, O.S.F.S., pastor of St. Ann Parish and dean of the Fayetteville Deanery, was principal celebrant. Concelebrants included: Father Rob Schmid, parochial vicar at St. Patrick Parish in Fayetteville; Father JaVan Saxon, pastor of St. Mary, Laurinburg; Father Cesar Torres Martinez, parochial vicar of St. Elizabeth of Hungary, Raeford; Father John Kelly, O.S.F.S., pastor of St. Elizabeth Ann Seton, Fayetteville; Father Giovanni de Jesus Romero, administrator of St. Andrew, Red Springs; Father John Forbes, administrator of Sacred Heart, Pinehurst; Father Thomas Gaul, administrator of Good Shepherd, Hope Mills; and Father Andrew McNair, pastor of St. Anthony of Padua in Southern Pines.
In his homily, Father McNair spoke about invoking the holy name of Jesus.
"When we, as a people of God … call upon the name of Jesus, we become light, and we are able to give light to our brothers and sisters," he said. "We are Christians, and the holy name of Jesus Christ reminds us that Jesus Christ is our way to be light and to give light to our world. May we invoke the holy name of Jesus, and by invoking this holy name … we will be transformed into the light of Christ's truth."
Father McNair added that "God is love" is the basic truth on which people build relationships and the basic truth people proclaim to the world.
Students from three Fayetteville-area Catholic schools—St. Ann School, St. John Paul II School and St. Patrick School—attended the deanery Mass. Some student-musicians, such as Jessica Lowe of St. Ann, participated in the Mass as choristers. Her grandfather, who was visiting from Pennsylvania, made the trip to the new cathedral to celebrate Mass and hear her sing.
"I was trying to get pictures to capture the moments. The choir sounded wonderful," Lewis Smith, Jessica's grandfather, said. "[The cathedral] looked very grand. It was very open … I liked the lighting. The people were very friendly. And I loved the statues on the sides. And the high altar up there reminds me of my own elementary school days … in Baltimore." 
Mr. Smith said organizers couldn't have picked a better day for the Mass. "The weather was gorgeous," he said. "It was a very pleasant experience, the whole thing, even if you weren't Catholic or weren't from the parish, you'd feel very comfortable today."
Watch the homily