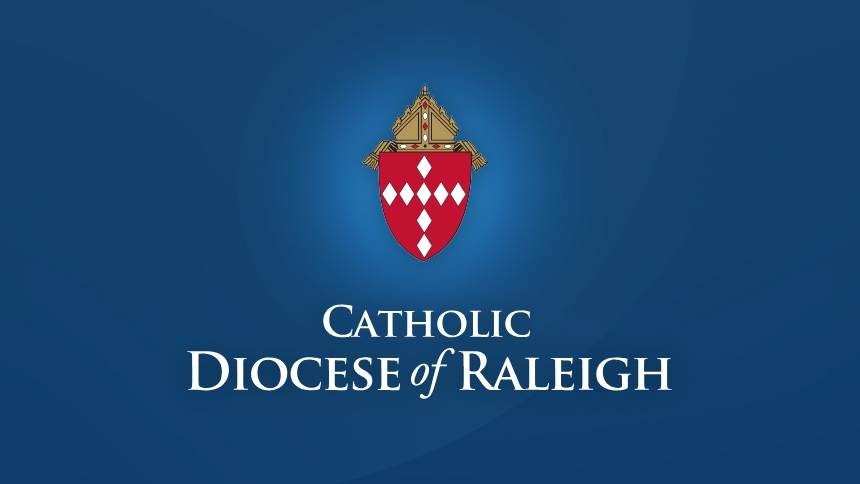 The resurrection of Jesus has been celebrated throughout the world for thousands of years. This sacred tradition will continue in a remarkable way this year in Raleigh as Holy Week and Easter Masses will be held for the first time in the recently dedicated Holy Name of Jesus Cathedral.
Bishop Luis Rafael Zarama will begin Holy Week with the celebration of Mass on Palm Sunday, March 25, 2018, at 10 a.m. Find additional Palm Sunday Mass times.
On Tuesday, March 27, Bishop Zarama will be the celebrant and homilist at the annual chrism Mass at 2 p.m., which will also be streamed live on the Diocese of Raleigh YouTube channel.
During the chrism Mass, diocesan priests will renew their priestly vows together with their fellow priests and other representatives from the 96 parishes, campus ministries and mission churches in the Diocese of Raleigh. Bishop Zarama will also bless the holy oils and sacred chrism, which will be used across the diocese throughout the year for sacraments such as baptism, confirmation and anointing of the sick.
The evening of Holy Thursday marks the end of Lent and the beginning of the Easter Triduum. Though chronologically lasting three days, the Easter Triduum is liturgically one day, celebrating the unity of Christ's paschal mystery through the unfolding of the passion, death, burial and resurrection of Jesus.
The Easter Triduum Mass schedule at Holy Name of Jesus Cathedral is as follows:
Holy Thursday, The Mass of the Lord's Supper, March 29, 2018
7 p.m. Bilingual
(Note: Adoration of the Blessed Sacrament will continue until midnight)
Good Friday, Stations of the Cross, March 30, 2018
9 a.m. Spanish 
(Note: will include a live procession)
12 p.m. English
The Passion of Our Lord; 3 p.m. Bilingual
Holy Saturday, Easter Vigil, March 31, 2018
8:30 p.m. Bilingual
(Note: Mass will be streamed live on the Diocese of Raleigh YouTube channel)
Easter Sunday, Mass of the Resurrection of the Lord, April 1, 2018
7 a.m. English
8:30 a.m. Spanish
10:30 a.m. English
12:30 p.m. English
2:30 p.m. Spanish
4:30 p.m. Latin