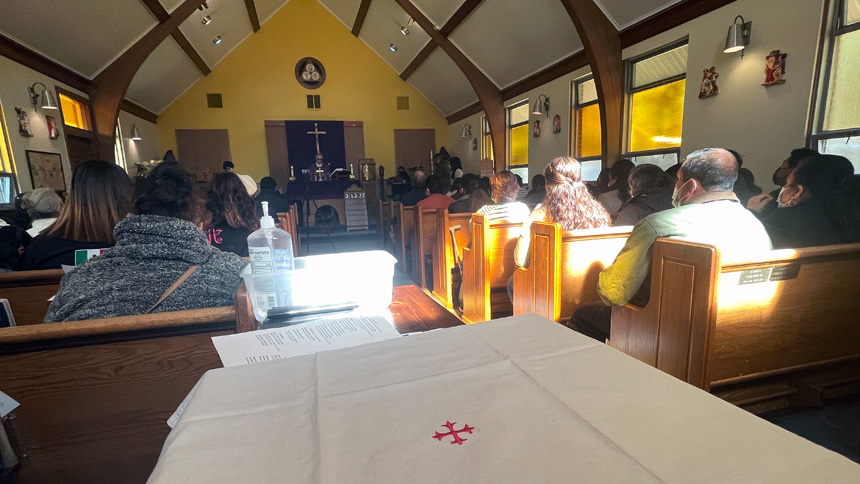 WILLIAMSTON – Holy Trinity Church is easy to see from Highway 17/13. It's a brick building with the parish name clearly showing on a sign and on the church. Around the building are picnic tables for gathering and statues of Mary and St. Francis. In early March, there are daffodils and pink tulips, too.
Inside there are about 18 wooden pews. Each one can hold about six people. Light shines through yellow-tinted windows during morning Mass and warms the sanctuary.
On Sunday, March 13 each pew was filled as people came to celebrate a bilingual Mass with their bishop, Luis Rafael Zarama, and their pastor, Father John Brown.
In his homily, Bishop Luis talked about the Transfiguration and the difference between listening and hearing. He encouraged people to listen with open hearts and thereby create understanding.
"When we listen, we are challenged to receive the message that is coming to us," he said. "God always has the best for us."
Holy Trinity is the kind of parish where the bulletin may note a parishioner by first name only and everyone knows who that person is. During the prayers of the faithful, the priest asks if there are any other prayers, and people share additional intentions out loud. Birthdays and anniversaries are mentioned. And the youngest parishioners pass out coloring sheets to their peers. 
For the bishop's visit, the community prepared a meal, which included food from such countries as Peru and Mexico. Hot chocolate was another welcomed treat considering that the morning was cold, about 35 degrees.
Photos