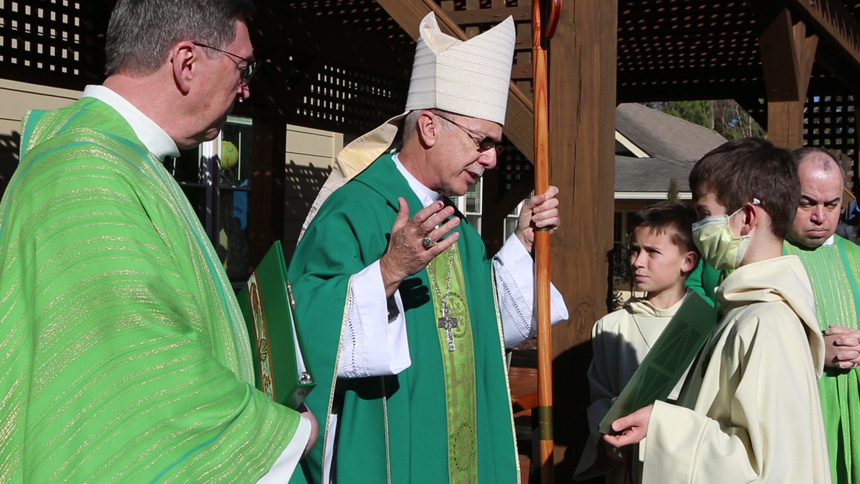 RALEIGH - Bishop Luis Rafael Zarama blessed a garden and additional columbarium at St. Francis of Assisi Sunday, Jan. 15. The event took place after Mass. Monsignor Michael Clay, pastor, and Father John-Alexander González, parochial vicar, were also present.
During his homily, Bishop Luis spoke about the importance of gratitude and invited everyone to remember to "enjoy what we have and let God do his will."
The new columbarium section is located near the main entrance of the chapel with 616 new niches. The blessing took place under a strong sun that illuminated the space where the cremains of parishioners of the church would have eternal rest.
According to Monsignor Clay, Catholics are increasingly choosing to be cremated. This has been particularly true since the onset of the pandemic. In 1997, the Catholic Church in the United States, with the approval of the Vatican, published guidelines to assist parishes and the families in the proper and reverent treatment of cremains.
During the blessing, Monsignor Clay mentioned that the columbarium at St Francis is one of the earliest ones located at a Catholic Church in the United States.
"Since 1996, we have been blessed to have a columbarium and memorial garden as part of our community's life," wrote the pastor in his column in the Sunday bulletin.
Rob Neppel, director of finance and planning at St. Francis, said that the project for the new columbarium started three years ago.
"We have a columbarium committee composed of several parishioners that oversee the overall planning. They meet every year and discuss, you know, how things are going and, since we had an endowment set up, that a portion of all the sales of the niches goes into that endowment to support perpetual care," Neppel said.
After the blessing of the new columbarium, the bishop blessed the new garden located between the church and the community center. Monsignor Clay expressed his gratitude to Gregg Mason, president and owner of Mason Properties, the company that designed the new St. Francis of Assisi Garden.
Video
Photos