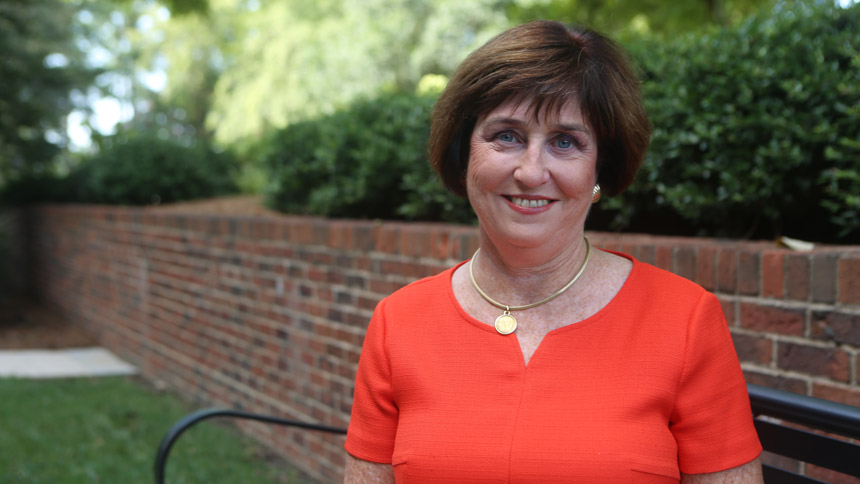 NC Catholics: What does the Foundation do?
Maureen O'Keeffe Lindgren: I like to call it the savings account of the diocese. We are responsible for ensuring a strong and vibrant diocese for today and generations to come. We cultivate endowed and major gifts for the long term benefit of the diocese, as well as its parishes, schools and ministries. The Foundation is responsible for raising funds for the Land Trust, Home Mission Society and the Seminarian Partnership Program. We work with pastors, finance councils, principals and administrators to create endowments in support of parish and school strategic plans. We also assist individual donors who want to consider a gift to the diocese, a parish, a ministry or an unrestricted gift. The Foundation provides resources such as estate planning workshops, parish seminars, one-on-one conversations and financial instruments to help individual stewardship.
NCC: Why did our bishop establish the Foundation?
MOL: Bishop Luis Rafael Zarama established The Foundation in 2018 to manage temporal works of the Catholic community in Eastern North Carolina. There are over 180 Catholic Foundations in the U.S., which means 80% of dioceses have a separate foundation. The majority of these foundations are formed to manage and expand endowment funds that provide ongoing support of the Catholic mission.
NCC: What are some of the accomplishments since it began?
MOL: We have established 15 new endowments, and have grown our assets from $55,000,000 to $74,000,000 through June 2021. We have provided grants or endowment distributions in the amount of $3,500,000 to over 60 beneficiaries. We have raised over $650,000 for the Seminarian Partnership Program and disbursed over $1,000,000 from 12 endowments that support seminarian education.
NCC: Do you have any examples (large or small) of how an individual has been impacted or how a ministry, school or parish has benefitted?
MOL: We are so grateful to the individuals, parishes, and communities who have shared their gifts with The Foundation. On our website we highlight a new story each month. However, I met recently with a donor, Carol Reilly. She established an endowment named the Sean and Carol Reilly Scholarship Fund. Carol shared that she and her husband were products and perennial fans of Catholic schools. However, they wanted to do more. After the death of her husband, Carol decided to continue their work by establishing an endowment to defray the cost of tuition. She decided to start the endowment now instead of waiting until she passed away as she wanted the students to benefit now. At The Foundation we allow donors to experience the joy of giving today while building a lasting faith-based legacy of stewardship and generosity.
NCC: What are some of the challenges The Foundation faces?
MOL: I believe the biggest challenge is understanding. When I first started in my role as executive director, I was amazed at the number of people who are engaged in the diocese and Catholic community who had no idea what it was or why it existed. My priority is to change that.
Also … The Foundation is not just for donors who want to make a major gift or establish an endowment. We have a donor who sends $20 each month to support the Home Mission Society. We have donors who pledge $1,000 per year to the Seminarian Partnership Program. We have donors who, on occasions such as Monsignor Lewis' birthday, send a gift to the Lewis Award Endowment Fund. We want parishioners to know they can make a contribution of any size to their parish endowments. We will be launching a campaign in the Fall around growing parish and school endowments.  
NCC: How has the experience been in your current role? Have you learned things that you did not know even after being in the diocese for 16 years as a parishioner and volunteer?
MOL: First, I am very humbled to be the executive director. This is a second career for me and one I am so passionate about. This position gives me the opportunity to expand my reach for the benefit of the diocese. I'm grateful to work with a wonderful board and a great staff. The overwhelming support of Bishop Zarama allows me to speak with confidence when working with donors. 
I learned that collaboration and trust are important. I strive to be a partner of the clergy and people in parishes … to win their respect and find mutually beneficial solutions. I always understood that our diocese covered 32,000 miles, but until I started driving it, I didn't really grasp exactly how large that really is. I do want to drive those miles and meet our priests, donors and those who are the recipients of our funds.
*edited for space