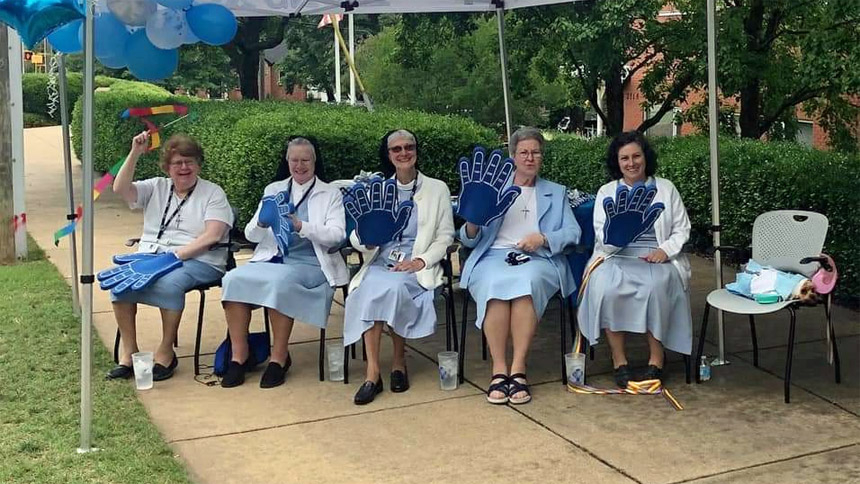 RALEIGH - On June 3, Overbrook Drive was awash with balloons, posters, confetti cannons and even a puppy dog dressed in a habit.
It was the last day of school for Our Lady of Lourdes, and while the last day of school is normally a time for celebration, this day was bittersweet.
After years of service to the Lourdes community, the Servants of the Immaculate Heart of Mary sisters are heading home to Philadelphia.
In an effort to show the religious sisters how much their service meant to the community, the school organized a carpool gratitude parade. Parents were encouraged to decorate their cars, and students made signs that expressed love and appreciation.
A committee of parents, led by Katie Kelley and Nora Bray, organized the parade and managed to keep the festivities a secret.
As cars festooned with streamers pulled around the corner, Sisters Therese Bauer, Mary Jo Ely, Rose Veronica Robinson, Helen Gates and Jane Yablonski were escorted to seats of honor and given giant foam hands to wave.
Sister Helen Gates said, "I wish it was our arrival, instead of our farewell."
Parents and students alike shared the sentiment.
Sixth grade student, Jackson Masters, said, "They've just been such a great influence on everyone here, and they've made this place a lot more joyful and happy."
"I trust that God has a plan, and I trust that plan, but it is so heartbreaking," said OLL parent Kristel Aman.
In addition to the parade, the school collected donations for the IHM retirement fund and created a scrapbook filled with memories and pictures from over the last nine years.
As a permanent reminder of the IHM legacy, a statue of Mary was dedicated on the OLL campus.
Video
Photos
Photos from Our Lady of Lourdes School Facebook page.
Click or tap to view full image.