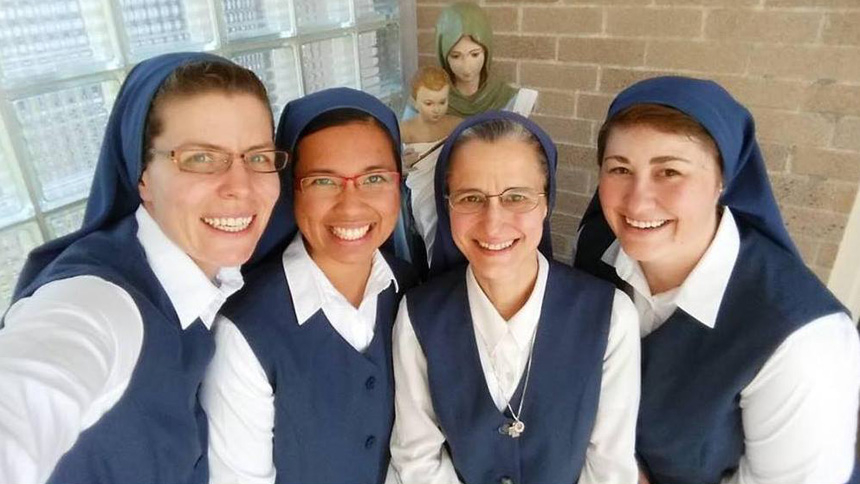 Above: The Daughters of St. Paul were founded specifically to preach the Gospel with media.
---
Technically, it should read whom do you follow. And obviously, it's Jesus. But what we mean is – whom do you follow who helps you follow Jesus? It's a question NC Catholics asked recently on social media.
We heard from many people, including Ginny Lennon. She belongs to St. Andrew Parish in Apex. It's an important faith community to her, but it's not the only one. There's a Facebook group that, for her, is encouraging. It's a group composed of people listening to "The Bible in a Year" podcast, which is in the top show in the Religion & Spirituality category on Apple iTunes as of Jan. 4, 2022. (It was #2 on Spotify in that same time frame.)  
This is the second year that the podcast became the #1 show in the United States on Apple Podcasts, and the first year it's also offered in Spanish. Hosted by Father Mike Schmitz, "BIY" debuted as the #1 podcast in all categories from Jan 2 - 18, 2021, and maintained nearly a half-million daily downloads through the end of the year, according to Ascension, the multimedia network that produces the show. 
"Father Mike is extremely personable and inviting with his explanations of the Bible readings," Lennon told NC Catholics. "It takes no more than 30 minutes a day with exception to the days that we are entering a new time period of salvation history because he and Jeff Cavins do a separate podcast that explains the time period."
Lennon was one of many who mentioned the ever-popular BIY podcast. Other folks mentioned Instagram accounts, authors, YouTubers, Twitter accounts and others. Let's take a look at whom/who/what people are following when they're using their laptops, iPads and smart phone.
(By the way, thanks for sharing your ideas, and the content shared is, as always, the purview of its creator, the kind with a lower-case c.)
Tommy Tighe and
St. Dymphna's Playbook
St. Dymphna's Playbook is a book and a podcast. Its author/creator, Tommy Tighe, is a licensed marriage and family therapist who also co-hosts Repent & Submit on the app CatholicTV. (We're told he also has a fishy hat that may be a Twitter favorite.) Tighe talked to NC Catholics about why he decided to use his voice to address the topic of mental health and the Church. 
"The importance of talking about mental illness in our Church ranks high up there for me. So many of us are suffering and don't know who to talk to, where to turn, why our prayers don't seem to be working," he said. "And the Church (meaning both the hierarchical Church and all of us who make up the Church) needs to be the community that is there to support with unconditional love and acceptance. Only by talking about our struggles and getting them out in the open can we hope to make this community a reality while breaking down the stigmas that have kept us silent for so long." 
Tighe said social media has been a blessing in many ways, but "study after study has shown that excessive use of social media has been linked to an increase in depression and anxiety, especially among younger people. Most of us can see this in our own lives … the anxiety around my own social media use is plain for me to see, and I recognize that the more time I spend away from that glowing screen by getting outside in the real world, the better I feel." 
While he uses humor to connect with his audience, he's serious about the reality that "we can no longer allow the Catholic position to simply be 'pray and don't worry'. Obviously, prayer is vital – but so is knowing how to reach out for help, being open to sharing our stories, and finding that supportive community that Christ calls us to experience."
Tea with Tolkien
Tea with Tolkien is an online community inspired by the works, life and faith of scholar and writer J.R.R. Tolkien. Its creator is Kaitlyn Facista, a Catholic mother and wife in the Midwest who keeps up a presence on Twitter, a book club and a Facebook group. And she garnered several people in North Carolina who have made a habit of hobbit content. In addition to beautiful photography and quotes paired with art (check on Instagram), Tea with Tolkien has a webpage with links to podcasts Facista was featured on.
Catholic Stuff You Should Know
This is a podcast hosted by four men who describe themselves as "regular guys who just happen to be Catholic priests." Fathers Nathan Goebel, John Nepil, Michael O'Loughlin and Mike Rapp are from the Denver area and approach Catholic topics with lighthearted exploration. Their Twitter and Instagram accounts promote the podcasts and offer a glimpse at their lives as they celebrate feast days, as well as special occasions, family members, milestones and even their favorite athletes and listeners.
Baritus Catholic Illustration
@barituscatholic
Chris Lewis calls it "evangelizing through beauty," albeit a grittier beauty than many are used to in Church art. Lewis employs his website, an Etsy shop and social media to reach people. "Social media has made it possible to instantaneously connect with Catholics around the world," he said. "I believe when you create art that is meaningful to people, they will want to share it, and this has been something that has helped me reach more people organically."
Daughters of St. Paul
@DaughterStPaul
They were founded specifically to preach the Gospel with media. These active-contemplative religious sisters, with a home in Boston, have a presence on Twitter, Instagram, TikTok and Facebook. In addition to providing inspirational content that may draw Catholics closer to their faith, these accounts are also meant to help and act as a connection point for those who may be discerning a call to a vocation such as religious life. Their Daughters Project features a podcast, and the sisters, who call themselves #medianuns, share spirited videos on TikTok.