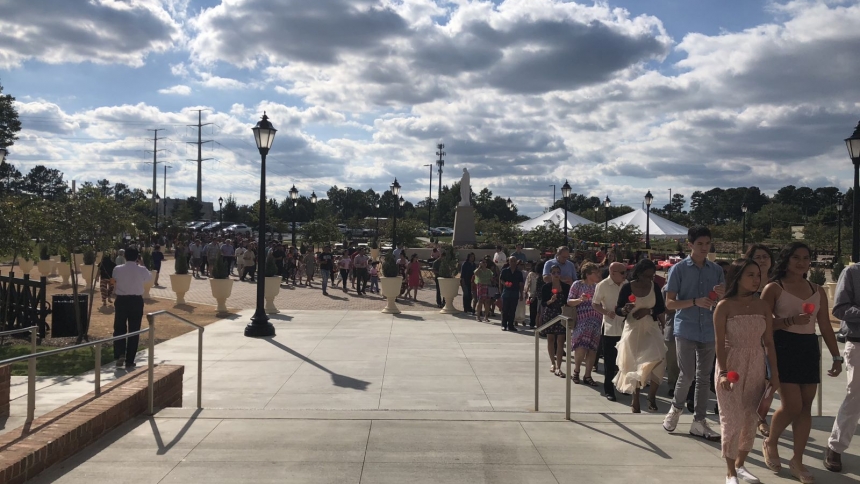 In the last days of September, when summer is officially ended, and autumn begins, the Filipino community of the Diocese of Raleigh gathers to celebrate the Feast of Saint Lorenzo Ruiz who is considered by many as the patron saint of Filipino migrant workers. Martyred in Japan, San Lorenzo Ruiz is seen as an empathetic figure and a migrant-saint by many overseas Filipino workers (OFWs) who experience the same sacrifices and separation in a foreign land.
Holy Name of Jesus Cathedral hosted the Mass and celebration. Traditional music played by a Filipino band outside of the Cathedral was part of a solemn entrance. The Mass began with a procession in which the statue of San Lorenzo was carried into the cathedral and women dressed in beautiful bright colors left flowers on the altar.
Born Lorenzo Ruiz in Binondo, Manila in the 1600s, San Lorenzo Ruiz was married and had a family. He fled the Philippines to go to Japan, where he faced persecution and jail. He refused to renounce his faith and told his executioner that he was ready to die for God. On Sept. 27, 1637, he was hung by his feet and after two days of agony, he died of bleeding and suffocation.
Monsignor David Brockman, the principal celebrant and homilist of the Mass, invited the faithful to have the same passion and love for God as San Lorenzo Ruiz demonstrated. "And remember, we can't have it both ways," he said. "He reminds us that integrity of life is what we are all called to live."
For those attending the Mass, it represented not only a celebration, but pride in their culture.
"We are trying to preserve our culture for our children," said Mike Alivio, who attended the Mass with his wife and children. "This celebration is part of our cultural and traditions. It is important to participate and celebrate San Lorenzo Ruiz with our kids too."
"We've been celebrating this Mass for nine years," said Maria Romp, coordinator of the celebration. Every year, Romp decorates the vestments worn by the clergy, with an embroidered image of Saint Lorenzo. "Honoring San Lorenzo unites Filipinos and we feel grateful for the support of other communities," said Romp. "He is an example of love to God and sacrifice for our faith."  
The Filipino's rituals were an important part of the celebration, as well the music.  Six sets of choirs participated in the celebration: Saint Ann Catholic Church, Fayetteville Filipino Choir, the Visayan Choir "Gasa Sa Gugma" (Gift of Love), the Filipino Ministry Choir, the Spiritual Choir, the Gospel Choir of Holy Cross Catholic Church and the Hispanic Choir of the Cathedral.
The celebration continued after Mass on the piazza with a feast of traditional Filipino dishes.