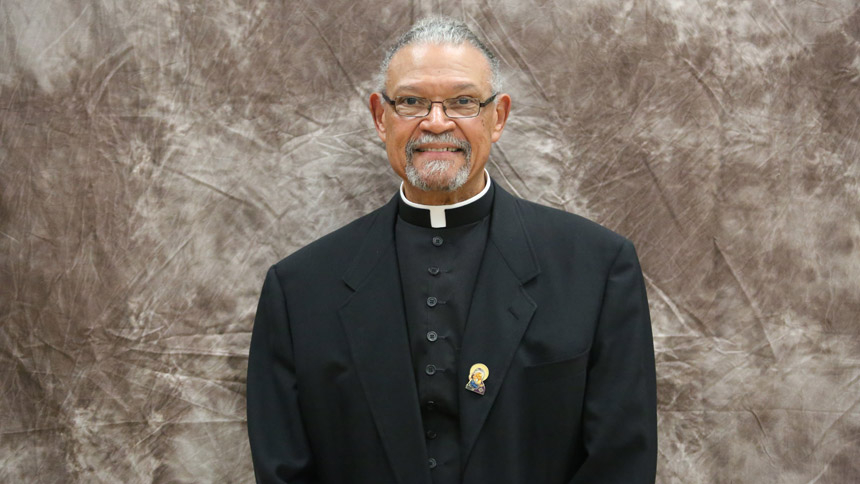 Father JaVan Joseph Saxon died Sunday, July 11 at his residence at St. Mary Church in Laurinburg following a sickness due to lymphoma.
He was born Feb. 5, 1950 in Kinston, North Carolina, to Robert Tate Saxon, Jr. and Thelma Robinson Saxon. He was raised alongside his sister, Donna.
He attended N.C. Central University in Durham and worked professionally as a chef before discerning his vocation to the priesthood. He attended St. Mary's Seminary in Baltimore and was ordained to the priesthood June 4, 1983 at Sacred Heart [then] Cathedral in Raleigh.
At the time he talked to NC Catholic newspaper about his home state and choice to be a diocesan priest. He said, "This is the place where I received my gift of faith, and this is where I want to share it."
He shared his faith and vocation as a deacon at Our Lady of Lourdes Parish (Raleigh), and later as a priest at St. Paul (New Bern), St. Gabriel (Greenville), St. Anne (Edenton), All Souls (Columbia), St. Victor (Hertford), St. Joseph (Raleigh), Our Lady of Perpetual Help (Rocky Mount) and, finally, at St. Mary.
He earned a master's degree in theology and studied medical ethics and moral theology.
Father Saxon was influenced by the Franciscan Friars and the Sisters of Atonement, who served in Kinston when he was a boy. His sister nourished his faith and sent him "five years' worth of paper, pencils, pens and even paper clips" when he entered seminary.
He was known to have an affinity for music and singing at Mass.
For many of the parishioners he served, he was a pastor and a friend, said Kathy Kelling, who first met Father Saxon during his years at St. Joseph. She remembered his humility, appreciation of a good meal and instinct to help others, especially those suffering.
"The diocese has lost a great priest and a very loving person," said Kathy's husband, Ray Kelling.
Watch as Father Saxon discusses his call to the priesthood and his life as priest in this 2012 episode of Catholic Perspective.
Funeral arrangements
The Reception of the Body and Vigil for the Deceased will be celebrated on Wednesday, July 14, 2021, at 6:30 p.m. at Saint Mary Catholic Church in Laurinburg, with the Rev. Msgr. David D. Brockman, V.G., presiding. The Visitation will continue there at the parish church until 8:00 p.m. The Funeral Mass will be celebrated on Thursday, July 15, 2021, at 11:00 a.m. at Saint Mary Catholic Church in Laurinburg with the Most Reverend Luis Rafael Zarama, principal celebrant. Priests and deacons vesting for the celebration of the Mass are respectfully requested to bring alb, cincture, and your diocesan vestment and under stole.
Burial will be in the priests' section at Our Lady of Guadalupe Parish cemetery in Newton Grove, with the procession to the cemetery directly following the Funeral Mass. For those who are planning to travel to Our Lady of Guadalupe Parish in Newton Grove for the Rite of Committal for Father Saxon in the parish cemetery, the approximate time for this liturgy is 3:00 pm on Thursday, July 15, 2021, upon the arrival of the procession from Saint Mary Parish in Laurinburg.
The Reception of the Body and Vigil for the Deceased on Wednesday and Funeral Mass on Thursday will also be streamed on the St. Mary Catholic Church Facebook page.
Mass cards and condolences may be sent to Father Saxon's sister, Ms. Donna Saxon, at the following address: Ms. Donna Saxon, 512 Brook Arbor Drive, Cary, NC 27519. 
Kindly continue to remember Father Saxon among your intentions, especially at Mass, his family and all those who are in mourning at this time.
Through the intercession of Mary, Mother of Priests and Saint John Vianney, may Father Saxon know this day the fullness of joy of the heavenly liturgy before the Risen Christ and the peace of God's Eternal Kingdom.