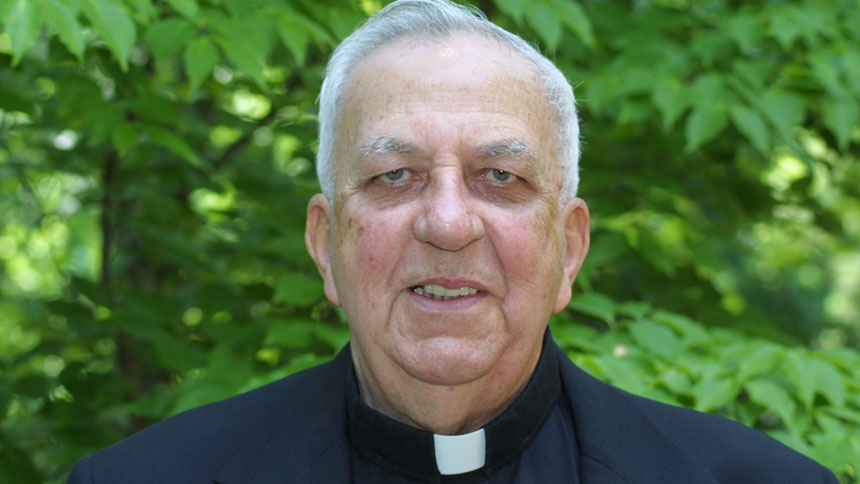 Father Francis George Maloney, a priest of the Diocese of Raleigh, died Wednesday, April 28 at FirstHealth Moore Regional Hospital in Pinehurst.
He was born February 13, 1932 in So. Boston, Massachusetts to John J. Maloney and Catherine Cady Maloney. Part of his formation included time as a Marist religious brother in Pennsylvania in the 1950s.
In 1960 he graduated from St. Mary's Seminary in Baltimore. Father Maloney was ordained to the priesthood May 26, 1960 at Our Lady of the Assumption Church in Charlotte. (In 1960 there was one diocese for the entire state of North Carolina.)
His priestly service included work at the following parishes: Our Lady of Guadalupe in Newton Grove (1960-1961), Our Lady of the Assumption in Charlotte (1961-1965), St. Francis de Sales in Lumberton (1965-1966) and Christ the King in King's Mountain (1966.)
Father Maloney later served at St. Charles in Ahoskie (1966-1969) and St. Paul in Henderson (1969-1976.)
He also worked in Dunn at Sacred Heart and nearby in Clinton at Immaculate Conception from 1976 to 1978. In the 1980s he served at Blessed Sacrament in Burlington, St. Bernadette Mission in Butner and in prison ministry.
Before his 2000 retirement from active ministry, he was at St. Brendan the Navigator Parish in Shallotte, where he helped build its first church building, and St. Mary in Garner.
Father Maloney was active with anti-poverty agencies and groups that supported seasonal farm workers. He also worked with Franklin, Vance, Warren Opportunity, Inc. to help create a health clinic at one point during his ministry.
"He was a missionary at heart. He wasn't a proud person," said Monsignor Gerald Lewis, who served with Father Maloney and currently serves as diocesan archivist. "He was trying to make the world better and trying to make us priests better, too. He wanted us to be involved and educated. The fraternity of the priesthood was very important to him. He was always present and vocal for the priestly life and ministry committee and its study days. He was very much a part of the local Church."
At the time of his death, Father Maloney was a resident at St. Joseph of the Pines, a senior living community in Southern Pines.
Funeral Arrangements
A funeral Mass will be celebrated Thursday, May 20, 2021 at 11 a.m. at Sacred Heart Catholic Church in Pinehurst. Burial will follow and take place at the St. Anthony of Padua Catholic Cemetery, located next to St. John Paul II Catholic School at 2922 Camp Easter Rd. in Southern Pines. (Please note –There will not be a public visitation.)
Photos
Click or tap photos to view full images.