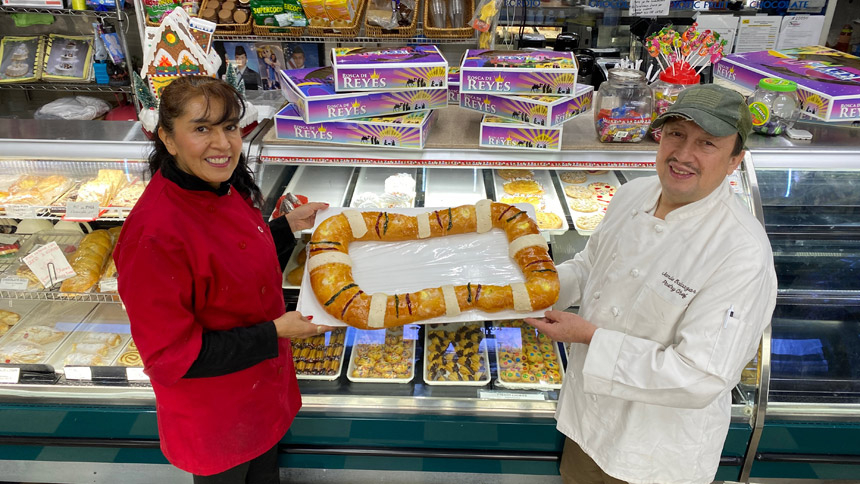 On Jan. 6, millions of people throughout the world observe Epiphany, or Three Kings Day, which celebrates when the three kings visited baby Jesus.
The word epiphany comes from a Greek word meaning manifestation, appearance or revelation. In the Catholic Church, the Epiphany celebrates the day Jesus made himself known before the magi, also called kings or wise men.
In the Diocese of Raleigh, many Hispanic families will gather to celebrate the Epiphany of the Lord and continue traditions, such as having Rosca de Reyes, or Three Kings cake.
Jaime and Yasmith Balcazar own the Balcazar Bakery in Raleigh and have been working for several days to have the Three Kings Day breads, which are also known as cakes, ready. The couple is of Colombian origin and said they enjoy not only baking the donuts but celebrating this date as a family.
"For us as Catholics, the Epiphany or Kings Day teaches us the importance of the coming of Jesus to the whole world," said Yasmith Balcazar.
The Rosca de Reyes is a crown-shaped cake, also known as king's cake, which represents the crowns of the magi, who came from the East to present their offerings.
Inside the bread are not only pieces of dried fruit, but the great treasure is the small figurine of baby Jesus. Those who find it, according to tradition, must offer tamales Feb. 2, in the celebration of the feast of Candelaria, when the feast of the Presentation of Jesus Christ and that of the Purification of Mary converge.
 What is the meaning of the Rosca de Reyes cake?
The oval shape symbolizes God's love, without a beginning or end.
Fruits symbolize the grace brought by Jesus Christ. Fruits also symbolize the jewels of the kings.
A baby Jesus figurine is placed inside the bread and symbolizes when Joseph and Mary hid Jesus from Herod.