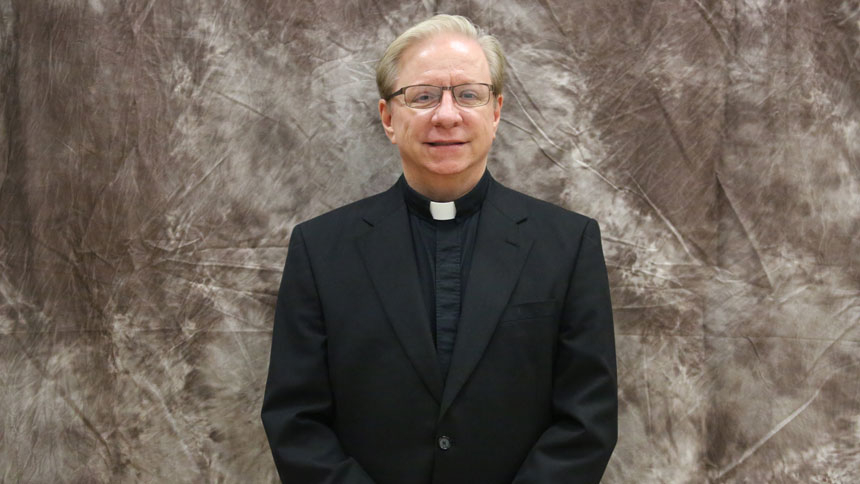 WILMINGTON – Family members, friends and brother priests of Father Trent Watts, who died Jan. 17 from COVID-19, gathered Jan. 21 for his funeral Mass at St. Mark Church.
The Mass was streamed live so that the faithful would be able to watch from home and keep in-person attendance low due to the pandemic.
He was born Aug. 20, 1953 in Roswell, New Mexico to Mack and Elise Watts, who were both from North Carolina. He grew up in eastern North Carolina and went to New Hanover High School. He attended the University of North Carolina at Wilmington, where he earned a bachelor's degree in Science and graduated in 1987.
He was not raised Catholic but was welcomed into the Church March 28, 1983 at St. Mary Church in Wilmington. He later attended St. Mary Seminary in Baltimore and graduated with a master's degree in Divinity in 1992.
He was ordained to the priesthood Jan. 30, 1993 at St. Mary, the same church where he was confirmed. According to an article in the NC Catholic newspaper, the ceremony featured a Gospel choir and "old-time hymns" and was "an ancient ritual with overtones of Father Watts' adopted South."
As a priest he served at Good Shepherd in Hope Mills, St. Thomas More (Chapel Hill), St. Patrick (Fayetteville), Sacred Heart (Dunn), St. Therese (Wilson), Sacred Heart (Southport) and St. Therese (Wrightsville Beach.)
During his homily at the funeral Mass, Bishop Luis Rafael Zarama talked about Father Watts' journey to the Church and the priesthood.
"He listened to the Lord … to see the breaking of the bread and say 'I'd like to become Catholic.' And it was not enough to become Catholic. He was to become a priest … that is a beautiful thing to see the process of growing in faith."
The bishop went on to speak of Father Watts' vocation and how his dedication to the celebration of the Mass brought Jesus to others.
"Saying goodbye is not easy. It is difficult," the bishop said. "But it's the way we trust completely to the Lord, our brother. Now he has the complete revelation of that beautiful mystery of love."
According to his obituary, Father Watts is survived by his sister, Celeste (Watts) Byrd, his niece, JoBeth Byrd Riker (Justin), a nephew, Alexander Byrd (Hannah), extended family members and special friends Pat Ciemnicki and Joe Baiunco.