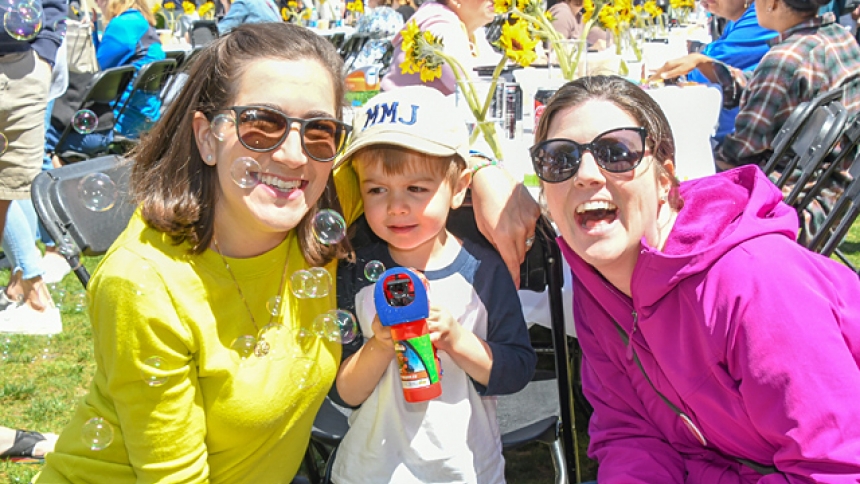 There's nothing like the wind, right? A gust of it in the right direction can make a flag look regal, carry a sailboat along the water or lift a soccer ball to just the right corner of a goal frame. 
But, when someone is setting an outdoor table, strong wind in any direction is generally unappreciated.
The Sunday Supper Durham gathered hundreds of people April 29 to share a meal and help end food insecurity in Durham, a city that experiences a one-million-pound food shortage each year, according to the Food Bank of Central and Eastern NC.
Like other volunteers, I was happy to join an early morning crew that set up chairs, tables, white tablecloths and pretty taupe table runners for a meal at American Tobacco Campus. It was basically like setting the table for dinner, only for 400 instead of four. The sun was out, the grass was green and live musicians were warming up near the iconic white water tower.
Volunteers began to open the packages of freshly cleaned table linens and spread them across the tables, paying careful attention that the sides were even with fabric. Then we set the runners down the middle of the tables and pushed the tables against each other. As we worked, so did the wind. At first it was funny. We grabbed a flying table cloth, trying to prevent it from ending up in the nearby water feature. We chased a table runner that had wound itself up and fallen onto the grass.
We talked about clamps. There weren't any onsite, and there wasn't time to go purchase any. Plus, it was a fundraiser and the goal was to make as much as possible for the beneficiaries - Catholic Charities and End Hunger Durham. We tried tape. But tape, even the heavy duty kind, doesn't mix well with fabric. We set water bottles on the tables as weights but they just rolled off. The flower vases may have worked, but they weren't ready to be placed yet.  
Then one volunteer began tying the table cloths together along the sides and at the end. She picked up a leaf that was on the ground and stuck it in the middle of the knot. It was the perfect solution for both time and budget. Everyone caught on to her idea and before we knew it four long rows of tables were covered and, most importantly, table cloths were no longer flying away.
It was a long, fun day. Hundreds of people enjoyed food and drink donated by local restaurants. People applauded the musicians. And most people conversed and enjoyed a meal with people they had never met before.
For me, I couldn't help but look every time I passed by one of those knots of fabric on the tables. They were all tied up together to solve a problem, much like all the people involved with the common goal of feeding those who are hungry. Those knots? Well, they weathered that wind.