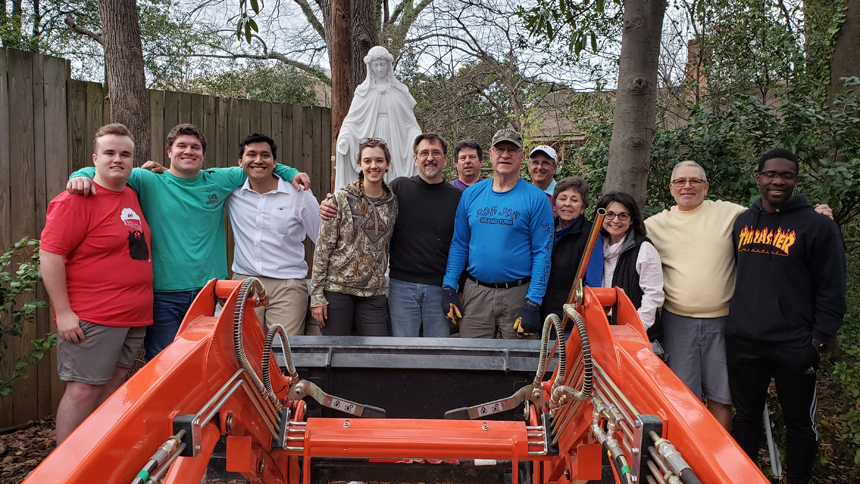 GREENVILLE – The timing wasn't always perfect, but the time finally arrived. That's how it went for the Rosa Mystica Prayer Garden, a project led by Emily Michaud. 
Bishop Luis Rafael Zarama blessed the garden and statue, which is part of the Newman Center for Catholic Campus Ministry at East Carolina University, Sept. 13.
The idea for the project first came to Michaud more than three years ago. In 2020, a year after she transferred to ECU, she became involved with the Catholic community on campus.
It felt like home to her, but the landscaping needed some care, she said. The space to the left of the chapel was overgrown with vegetation. It was so bad it blocked the floor to ceiling windows that are a feature of the brick building.
She thought of the grotto at her childhood parish, Our Lady of Lourdes, in Raleigh. She remembered being a Kindergarten student and taking part in the May crowning of the Mary statue at the school and how special that felt.
With those memories in mind, Michaud took some measurements of the overgrown space at Newman. She met with art students to develop a rendering.
Then the pandemic began. Like many college students, she moved home with her parents. She still had the prayer garden in the back of her mind, though, she said.
In 2021, Michaud returned to campus and approached Father Ian Van Heusen, the chaplain at ECU, about her idea. Because timing was important, she chose Sept. 8, the day the Church celebrates Mary's birthday, to do the asking.
She began work a few months later.
"Luckily, we had so many donations coming in that we realized we could get a much nicer statue. Originally our budget was around $400, but we were able to increase that significantly," Michaud said.
The only downside was related to timing. The custom statue would take six months to make what she calculated to be its 13,813-mile trek from China to North Carolina.
The other challenge, she said, was that the five-foot statue arrived 400 pounds heavier than the invoice stated it would be. The weight increase changed the installation plan dramatically.
"For a good two months I felt like I kept hitting a wall. I was contacting every forklift and crane company I could find, and no one had equipment that could fit in our small space," she said. "I felt defeated."
The statue delivery date was set, but so was her May 2022 graduation. She knew the project wouldn't finish until after her graduation, and she took a job in Greenville to stay close and see the project through.
Silvia Frizzelle, assistant at the Newman Center, and Marcy Regan, a coordinator of alumni at Newman, suggested that she reach out to the Knights of Columbus and ask for help with the installation.
"After making the phone call and some additional planning, we successfully and safely got our Rosa Mystica up on her base. They are our heroes! It would have been impossible without them," Michaud said of the Knights of Columbus at St. Peter Parish.
They were a big part of the team. Other members, she said, were a local Boy Scouts of America troop that helped clear the overgrown plants, professional carpenter John Horsley who helped with the arbor, fellow students and the supporters who prayed for the project and donated.
"My Mom was there for me every step of the way. Every time I second guessed myself or was struggling with choosing between this color or that color, this shape or that shape, she talked me through it and helped me reach a solution," Michaud said.
"My Dad spent a handful of his weekends helping me build … but he really helped me long before I got to ECU. He took the time to teach me how to build things and use tools. He also taught me to pursue my dreams with confidence and how to adapt when situations aren't ideal."
Speaking of adaptation, the garden space doesn't get a lot of sunlight. It's a partial sun situation. But, she said, hostas and azaleas are there now alongside birdbaths and seating that were already at Newman that she repurposed.
"The floating deck and base of the statue is built from lumber generously donated by Garris Evan's Lumber Company, and Lowe's donated materials for the retaining wall and flower beds," she said. "The Rosa Mystica statue is under a few trees, so it was important to me that we build an arbor to protect her from the potential of falling tree branches."
Now that the project is complete, she is back in Raleigh and hopes to pursue work in landscape architecture. When she reflects on the garden experience, she recalls the comfort she felt from Mary through the journey. It was much like what she felt as a girl holding the crown of flowers for her.
"My goal for the Rosa Mystica Prayer Garden was to create a peaceful outdoor gathering space for prayer and small social gatherings … that will bring students closer to Our Lady," Michaud said.
Photos