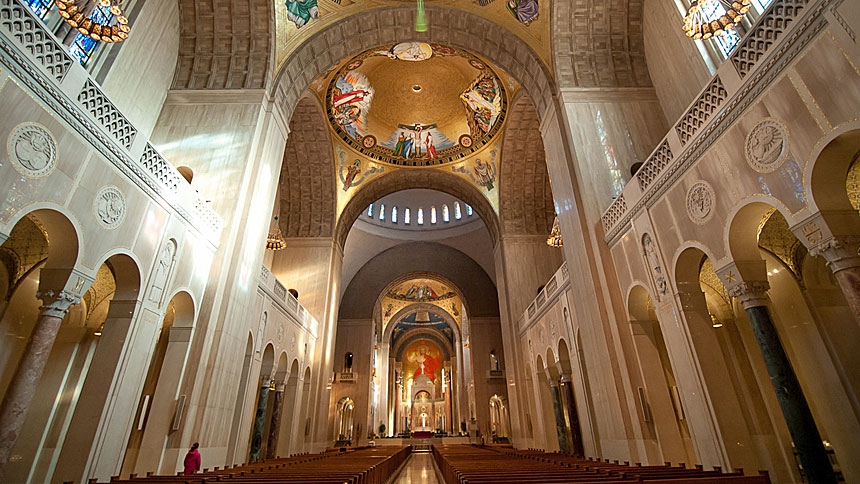 Through the support of the Catholic faithful in Eastern NC, the Diocese of Raleigh recently made a contribution of more than $9,000 to the Trinity Dome project at the Basilica of the National Shrine of the Immaculate Conception.
Located in Washington , DC, The Basilica is commonly referred to as, "America's Catholic Church." It is the largest Roman Catholic church in North America and among the ten largest churches in the world. Many in our diocese have attended mass in the Basilica as part of the annual March for Life.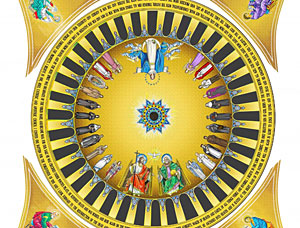 The Trinity Dome, the central and largest dome of the National Shrine, is the Basilica's "crowning jewel." The project under way will ensure the dome is adorned in mosaic according to the original iconographic scheme of the Great Upper Church and will depict the Most Holy Trinity, the Blessed Virgin Mary as the Immaculate Conception, and a procession of saints who have an association with the United States and the National Shrine, including the four evangelists, encircled by the Nicene Creed.
According to Reverend Monsignor Walter R. Rossi, the Rector of the Basilica, the Trinity Dome will contain almost 15 million pieces of mosaic glass and, "beckon all who look at it to raise their minds to 'think of what is above' (cf. Colossians 3:3) and remind everyone who visits this National Shrine that life in heaven with the Most Holy Trinity is our final goal."
During his historic visit to the National Shrine, Pope Francis blessed the preliminary segment of mosaic for the Trinity Dome containing the first and last words of the Nicene Creed:
"As your faithful people look upon these images and of our Profession of Faith, may they come to share in the fullness of Life you promise to those who are faithful."

Pope Francis
September 23, 2015
The Basilica is designated by the United States Conference of Catholic Bishops (USCCB) as a National Sanctuary of Prayer and Pilgrimage and our nation's preeminent shrine to the patroness of the United States, the Blessed Virgin Mary, under her title of the Immaculate Conception.