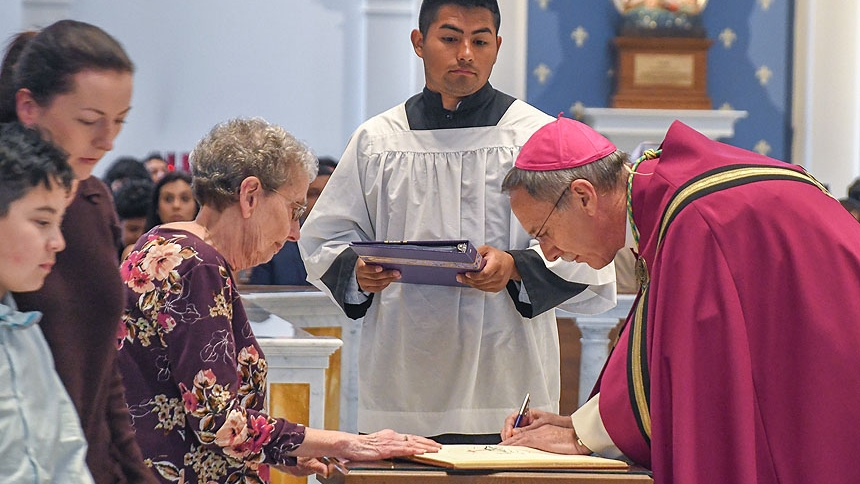 Watch Bishop Zarama's homily
On Sunday, March 10, at 3:30 p.m., the Rite of Election was celebrated in the Diocese of Raleigh at Holy Name of Jesus Cathedral. There were 375 catechumens from 45 parishes from the diocese in attendance.
New this year, the Rite of Election was celebrated only for the catechumens of the diocese, those being prepared for baptism, confirmation and First Eucharist.
By way of background for this decision regarding the Rite of Election, as promulgated in 1972, the Rite of Christian Initiation of Adults was designed primarily for adults who have not been baptized, nor formally catechized in the dogmas and doctrines of the Christian faith. The Rite, therefore, places particular focus on the journey of the unbaptized to the waters of Baptism, the chrism of Confirmation, and to reception of the Body and Blood of Christ in the Eucharist. This journey is one of profound transformation in the whole person who undertakes it, a transformation that opens the doors not only to a fruitful life of faith but also to a daily life enriched by that faith and lived on this good earth attuned to the presence of God everywhere within it.
In order that this profound transformation be recognized as pivotal in the lives the catechumens, Bishop Luis has decided that the First Sunday of Lent, as per the ritual book, be centered on the transition of the catechumens into the elect.
This decision, however, neither lessens nor ignores recognition of the growth in faith undertaken by those candidates for full communion in the Catholic Church, who are already baptized in the Christian faith. Their journey is of a different kind, but no less profound and transformative. Permission is granted to celebrate the Call to Continuing Conversion for candidates for full communion in the parishes where they are being catechized and prepared for Confirmation and First Eucharist. This rite can be found at #446-458 in the Rite of Christian Initiation of Adults. This rite may be celebrated at the parish on the First Sunday of Lent or as part of the Penitential Rite for Candidates for Full Communion, found at #459-472, on the Second Sunday of Lent.
Watch the full service
Photo Gallery