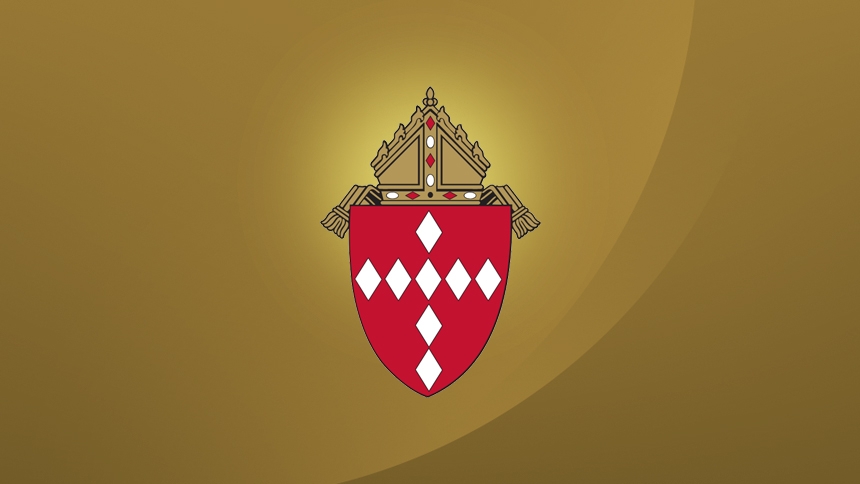 Speaking to nearly 300 at Mass on Martin Luther King Jr. Day, Bishop Luis Rafael Zarama urged those present to approach injustice with love, bring "the best" to one another, work together and celebrate differences.
He spoke Monday, Jan. 15, on what would have been Dr. King's 89th birthday, to congregants at Holy Name of Jesus Cathedral in Raleigh.
The annual MLK event, which was organized by the diocese and its office of African Ancestry Ministry and Evangelization, included Mass, a service project to benefit Catholic Charities and fellowship.
In his homily, Bishop Zarama focused on Dr. King's legacy of peace.
"He was, first, a pastor of a church. And a pastor is someone who has a heart to be able to see and to serve the people. He was able, in his relationship with Jesus, to listen to the call of Jesus … [and] to see, with the heart of Jesus, the injustice," Bishop Zarama said. "Because of that, [he was able to] fight for the people who were unjustly treated … to awaken the people at that time … [and] help them to dream, moved by love with peace."
The bishop added that there was injustice at the time of Dr. King and that there is still injustice today.
"Above all, Dr. Martin Luther King was a man of God," Father Andrew McNair, AAMEN chaplain and pastor of St. Anthony of Padua Parish in Southern Pines, said. "At the heart of this celebration is the Gospel of Jesus Christ."
Father McNair praised the choir, noting that the music led him to reflect on heaven.
The choir included more than 30 choristers from throughout the diocese and the AAMEN choir. Musicians played a keyboard, guitar and drums. Together they shared "We've Come This Far by Faith," "The Storm is Passing Over" and "The Lord is My Light." 
After Mass, many gathered in the cathedral's narthex, or lobby, to participate in a diaper service project. Volunteers repackaged diapers by size and added a printed card with a "Prayer for the new baby" to each 10-diaper bundle. (Diapers were gathered the day before at the annual Love My Life Youth Rally and at various parish diaper drives.)
One organizer humorously referred to the scene of tables covered in plastic bags, markers and diapers as "controlled chaos." 
"We wanted to teach the kids about giving back. It was important to remember this wasn't just a day off from school," Munah Benson said as she worked and watched her daughter and a friend's daughters count diapers into groups of 10.
"It feels good and important when you know you're doing something helpful," volunteer Anulika Izuakor, 10, said.
Dave Jones, a parishioner at Holy Family in Hillsborough, originally became involved with this MLK service event about eight years ago when it was held at Sacred Heart [then] Cathedral.
"I think it's wonderful … all the people on their way out of Mass today just stopping to help out. I think that's really cool. And I am just happy to be here," he said about this year's event.
For her part, Our Lady of Lourdes parishioner Amy Garrett wanted to join in fellowship with other Catholics as well as students and colleagues from an independent school where she teaches.
"Martin Luther King was so important in giving of himself to bring the country together … [and] it's important for students to learn to follow in Jesus' footsteps and give to others as he did," Garrett said.