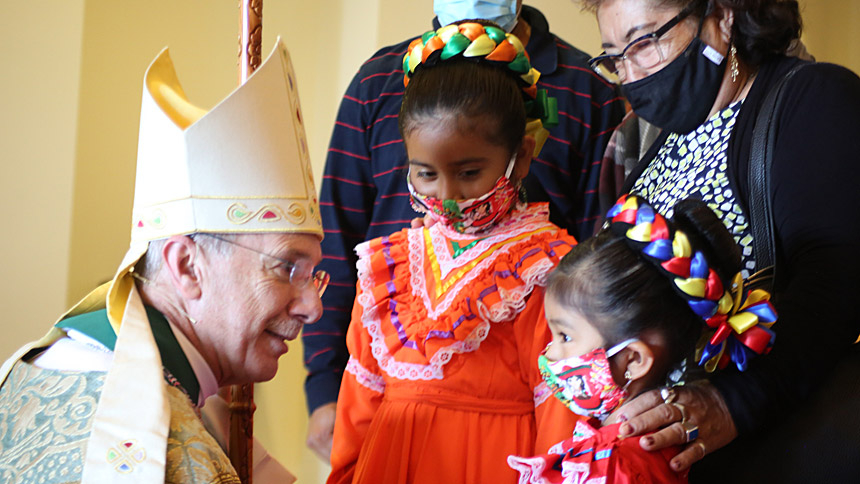 RALEIGH - Just as autumn arrives and the climate starts to change in the United States, one month is dedicated to celebrating Hispanic Heritage.
Hispanic Heritage Month is celebrated each year Sept. 15 to Oct. 15. The dates coincide with national independence days in Costa Rica, El Salvador, Guatemala, Honduras, Nicaragua, Mexico and Chile.
In the United States, more than half of Hispanics identify themselves as Catholic, therefore those weeks are an opportunity to recognize and celebrate the rich contributions of the Hispanic community, not only to the nation, but also to the Church. 
On Saturday, Oct. 16, Holy Name of Jesus Cathedral was home to colorful flags representing countries such as Mexico, Costa Rica, El Salvador, Guatemala, Honduras, Nicaragua, Panama, North Rico, Dominican Republic, Argentina, Bolivia, Chile, Colombia, Ecuador, Paraguay, Peru, Uruguay and Venezuela.
Parishioners from different churches arrived in traditional attire and colorful dresses from their home countries.
The Mass was celebrated by Bishop Luis Rafael Zarama, and the Gospel was Luke 12: 8-12, which read: "Recognize Jesus Christ in front of men. I tell you, whoever publicly acknowledges me before others, the Son of Man will also acknowledge before the angels of God. But whoever disowns me before others will be disowned before the angels of God."
The bishop said that it wasn't just a coincidence that the readings during the Mass were talking about the importance of knowledge of God in our lives and invited the attendees to feel proud of their Heritage including their faith.
He concluded his homily by inviting the community to integrate themselves and recognize the importance of everyone. "This celebration can be an opportunity to meet someone from another country and learn from other culture," he said.
After Mass, which was celebrated in Spanish, children and adults processed from the cathedral to the parking lot. The smell of quesadillas and tacos, along with the music and dancers wearing mariachi customs and vibrant colors, all made the members of the Hispanic community feel back at home, after a year and a half of social distancing and no gatherings. The celebration included a theater show organized by the Alvernia Youth Group from Greenville.
Originally from Morelos and Veracruz in Mexico, but residents of Fuquay Varina, Marce and Gerardo Morquecho attended with their young daughter Karolyne. Dressed in Mexican folklore dresses, mother and daughter felt proud to be part of the celebration.
"We like it a lot because it presents the Hispanic culture, and we like the church of St. Mary, Mother of the Church, in Garner and to represent our parish here in the cathedral," said Marce.
Gerardo added, "We feel very proud of sharing our traditions and culture with our daughter."
Karolyne was the youngest member of St. Mary, Mother of the Church choir, which was made up of six adults and eight children and responsible for the beautiful music during the Mass.
The celebration of the Hispanic Heritage was organized by Office of Evangelization & Discipleship.
Photos