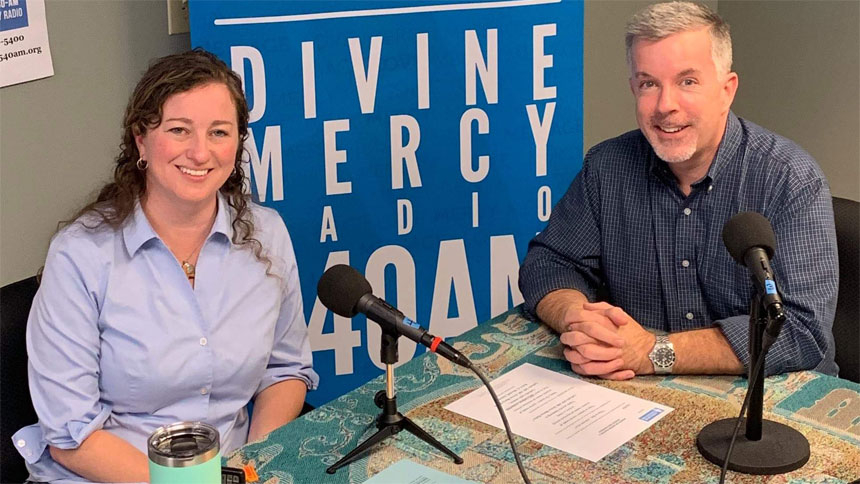 In an effort with Catholic 540-AM Divine Mercy Radio, the Diocese of Raleigh has begun producing a monthly news program called, "Carolina Catholic Digest."
The program is for and about Catholics throughout the state. But, when it comes to the name, there's more to it. The initials, CCD, were significant to radio host Mandy Howard, who also writes for the diocese and NC Catholics magazine.
"CCD was what we called faith formation growing up. My mom taught CCD at our parish and though she was busy  - there were six of us kids - and though the kids didn't always want to be there, she knew how important it was. When I think of CCD, I think of my mom, and I think of doing our part to share our faith," explains Howard.  
The monthly show includes three distinct segments.
At the top of the program, diocesan media production specialist Mark Hite relays the local Catholic headlines. Hite, who also serves as co-producer and editor of the program, strives to give listeners up-to-date and relevant information, while showcasing some of the stories listeners won't hear from other news sources.
Each show features an interview with someone who is making news or can shed light on topics important to Catholic listeners. Interviews on past programs have included the new superintendent of schools, Lytia Reese, executive director of Note in the Pocket, Dallas Bonavita and, for the November program, newly appointed vocations promotor, Father Jim Magee.
Bishop Luis Rafael Zarama is scheduled for the December program.
The last segment is the service spotlight. Each month, the show features a representative from Catholic Charities who will share how staff and volunteers are serving people throughout the state.
The Diocese of Raleigh is so large and diverse that Catholic Charities employees must often be experts on a number of issues, including food deserts, migrant worker laws, homelessness, flood maps, hurricane recovery and transportation access.
"The service spotlight is generally my favorite segment. Before I worked for the diocese, I had no idea just how much Catholic Charities had an impact on communities throughout North Carolina," says Howard.  
In addition to hearing the show on Catholic 540-AM Divine Mercy Radio, you can subscribe to the show, like a podcast, on Soundcloud. New shows are updated monthly.