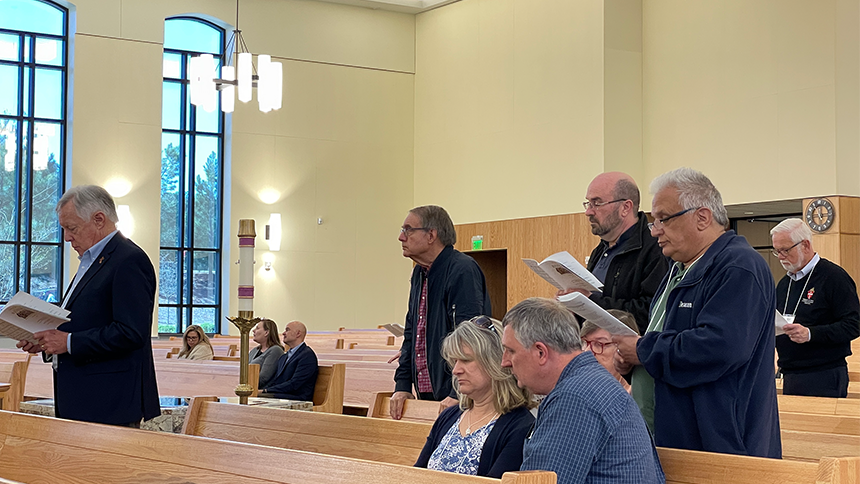 APEX – Deacons from throughout the diocese gathered April 2 for their annual convocation. For many, it was a joyous day as the last time they all convened was in February of 2020.
The event was held at St. Mary Magdalene Church, and included morning prayer, announcements, a conversation with Bishop Luis Rafael Zarama and Mass.
Mass was celebrated by about 50 deacons and many of their spouses, who were welcome at the event.
Bishop Luis was the homilist and Father Chris Kohen, pastor of St. Mary Magdalene, and Father Michael Burbeck, pastor of St. Michael in Cary, concelebrated. Also present were Deacon Dev Lobo, who serves at St. Mary Magdalene, and Deacon Felix Saez, Jr., director of the diaconate office for the Diocese of Raleigh.  
As he spoke to the faithful, the bishop said that he had one homily in mind but changed his plans when the Caribbean-like music and sunshine inspired him to give different remarks.
"I thought about dancing, but I didn't" he quipped about the music as those gathered laughed.
He encouraged people to look for joy and beauty both inside and outside, and to see themselves and their lives as Jesus sees them.
"How beautiful is this day," he said, motioning to the large church windows. "The only thing that Jesus is looking for is to help us discover beauty … the beauty of life. And to embrace that beautiful gift." 
During Mass the deacons stood and vocally renewed their commitment to service.