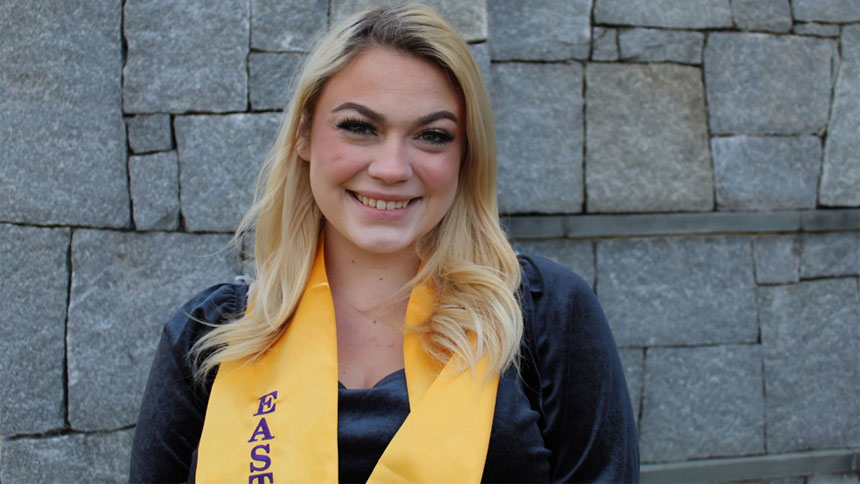 Graduating college is a time of equal uncertainty and hopefulness and graduating during the COVID-19 pandemic is the same.
For me, I'm a December graduate getting a degree in Journalism and during my last semester, it felt like I would never cross the finish line.
East Carolina University split up its fall semester into two, 8-week blocks so classes were being taught at an accelerated rate.
Immediately, I was struggling with trying to balance my part-time campus job and my classes. I barely made it to Mass because of my schedule.
I'm used to going to Mass twice a week at the Newman Center, so losing that routine slowly made my life feel a little off, but I didn't realize this until two weeks into the semester when my roommates and I got COVID-19.
There was some anxiety at first not knowing how sick we would get. The first few days we were doing things to distract us like complicated puzzles and watching feel-good movies.
What got me through was a lot of prayer. I meditated on the Psalm 56:3, "When I am afraid, I put my trust in You."
I'm almost thankful for COVID-19 because it made me slow down and take a break. It allowed me to get back into my faith and make it a priority.
Eventually I was cleared, but then I got mononucleosis. This was a curve ball. My mom suggested I quit my job and come home for the semester to get better, but I'm stubborn so I said no.
Everything seemed like it was falling apart. I was falling behind in classes and was experiencing anxiety about the future. I even broke my arm, and it all felt like God was playing a joke on me, but to stay grounded, I kept mediating on the same Psalm.
"When I am afraid, I put my trust in You."
I was afraid because apart from being sick the whole semester, I was graduating college and had to start making decisions about my future in a pandemic.
I figured the only way I could start my life post-college was by making my faith a priority, so I started to go to daily Mass, with a mask of course, as many times a week as I could, and it was the best decision I've made.
It made me feel like I could handle all the uncertainty and stress associated with graduating during a pandemic.
Right now, my plan is to freelance and work part-time to pay the bills. I'm really excited about this new chapter in my life and how it's including God more than it ever has.