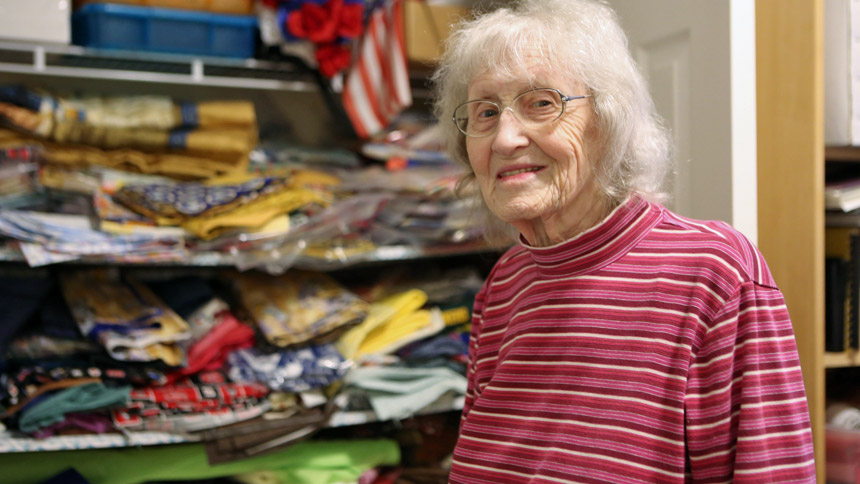 Ernestine Soller's closet is packed, top to bottom, with thousands of yards of fabric. If you look closely, you'll find fabrics with logos from professional sports teams like the Green Bay Packers or Chicago Cubs and college teams like the Tar Heels and Wolfpack. You'll find fabrics representing every branch of the military. You'll find animals of every kind and every color under the sun.
It'd be a fair assumption to guess that Soller makes her living as a seamstress, especially since the fabric in the closet only tells half the story. There are bins with thread, supplies and more fabric stacked throughout the room. And that's not mentioning the workstation with a sewing machine, copier and laminator that she uses to add special touches to her projects.
Though fabric and sewing supplies occupy close to half of her apartment, she does not make money from the projects she creates. She doesn't work for herself. She works to share love and faith with as many people as she can. Most of whom, she will never meet. She does it all, she said simply, "for the honor and glory of God."
Soller is the founder and one-person driving force that has been the St. Michael Prayer Blanket Ministry for 20 years. Inspired by a prayer blanket ministry at another parish, she felt called to create one at St. Michael Parish in Cary. She asked her friend and prayer group partner Ann Franzel to pray for her.
Franzel, a parishioner at Our Lady of Lourdes, remembers it well. "God bless Ernestine. She has done this on her own and she has been so faithful," Franzel said. "She's in love with Christ and she wants to share [that love] with everyone."
Within days of beginning the ministry, people began calling upon Soller asking for blankets.
No matter how many people were referred, or what they were experiencing, Soller came through.
"When people hold those blankets … they feel covered in prayer. I can't explain why they feel that way or how they feel that way, but they do feel the prayers that are said over those blankets," Franzel said.
More than a blanket
Prayer blankets are named not for the idea that they are like a bedspread, but for the idea that they cover the recipient in prayer.
A prayer is said during the creation of the blanket, then, a member of the clergy will bless it. In addition, each prayer blanket has a pocket which contains the prayer that is said over the blanket as well as prayer cards that may relate specifically to the person's need. (This is where Soller's laminator comes in.)
But Soller goes even further. When she hears about a person in need, she prays prior to picking out fabric. She asks about their favorite color, or sports team, or any details to help personalize their blanket and will search through countless stores until she finds what is right. Sometimes, there won't be a need that she's aware of, but she will feel inspired to buy something specific anyway. 
Deacon Mark Westrick, director of pastoral care at St. Michael said, "There's a plastic bin we keep in our office. I can't tell you how many times Ernestine would come in with a stack of blankets. Then, someone would come in shortly after and say, 'My nephew is going through something,' and they'd describe him and what he liked. Sure enough, one of the blankets Ernestine had just brought in would have their favorite team or animal."
Hearing that, Soller just laughs and shakes her head. "It must be the Holy Spirit. That's all I know about that," she said.
Blankets around the world
Stories of comfort, grace and protection that are connected with Soller's blankets are numerous and inspiring.
When a parishioner's son, Tom Dilday, was deployed to Iraq in 1994, Soller sent him a blanket and prayed for his protection. It brought him such comfort that he asked if she wouldn't mind making one for fellow soldiers as well. "[I wanted] them to experience that feeling of knowing someone had them in their thoughts and prayers," Dilday said.
Soller made 30 blankets, prayed over them, had them blessed and sent them individually to each person Dilday told her about.
Tracey Camut said she was "blessed to receive one, give one and share one with my Mom."
When Camut was diagnosed with stage four breast cancer, she felt angry and alone. A friend gave her a prayer blanket that she kept by her side through chemo and radiation. "I was able to feel the love of Jesus and the church every time I brushed my hand over it," she said.
In 2019, Camut's mother was diagnosed with glioblastoma and while the hardship made her, once again, question so much, she said she never felt alone. Since her mother's death, she said, her cardinal-covered blanket has caught many tears, but has also been a constant source of comfort and strength.
Another time, Soller said she received a call from the parish office. There was a request for a blanket for someone recently diagnosed with cancer who had "turned his back on the church," she said.
Soller answered quickly.
"I said, 'Oh yes, because you don't know what the Blessed Mother is going to do!'" Two months later, Soller said, the man returned to church.
With every story, more people would refer others to the prayer blanket ministry at St. Michael, never knowing it was really just one woman.
Thousands of blankets made by her hands and infused with her prayers are throughout North Carolina, North America and beyond.
While the impact that her work has had is undeniable, Ernestine Soller remains humble and grateful. "I get a nice feeling when I hear that people are feeling better, but this has been a blessing for me," she said.
Video
Photos