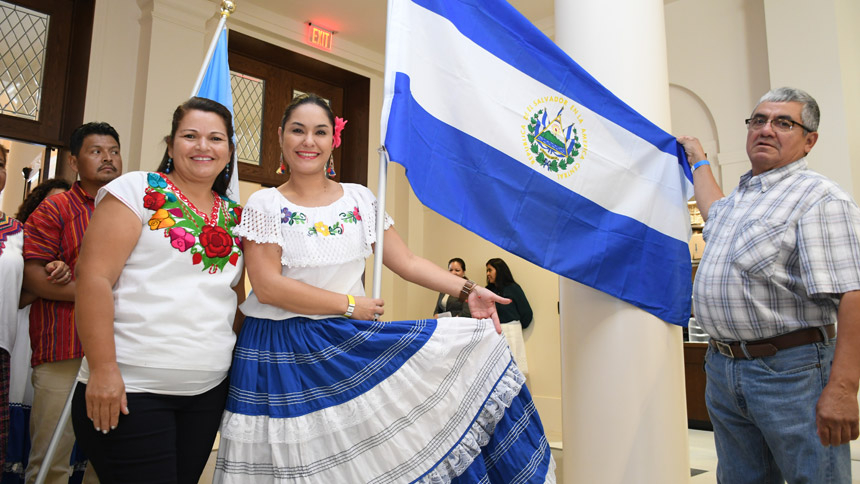 ¡Feliz Día de la Independencia a Guatemala, El Salvador, Honduras, Nicaragua y Costa Rica!
Cada año, del 15 de septiembre al 15 de octubre, Estados Unidos celebra el Mes de la Herencia Hispana, una celebración que busca honrar la cultura y las contribuciones de los latinos en este país.
El tema del Mes de la Herencia Hispana 2021 es "Esperanza: Una celebración de la herencia hispana y la esperanza". El tema refleja las contribuciones que los hispanos han hecho en el pasado y continuarán haciendo en el futuro.
El Mes de la Herencia Hispana fue establecido originalmente como la Semana de la Herencia Hispana por el presidente Lyndon Johnson en 1968 y se expandió a una celebración mensual por el entonces presidente Ronald Reagan en 1988.
La fecha del 15 de septiembre fue elegida como punto de partida porque ese día se celebra la independencia de cinco países latinos: Costa Rica, El Salvador, Guatemala, Honduras y Nicaragua. Otros tres países también están celebrando la independencia este mes: México, Chile y Belice. El Día de la Carrera es el 12 de octubre.
Durante años, las parroquias de toda la Diócesis de Raleigh habían celebrado misas y festivales locales para celebrar independecia de diferentes paises y el mes de la Herencia Hispana, hasta octubre de 2017, cuando por primera vez se hizo una sola celebracion en la catedral Holy Name of Jesus en Raleigh.
El año pasado, debido a la pandemia, muchos eventos fueron cancelados o celebrados virtualmente, incluida la Misa anual de la Herencia Hisapana en la Catedral de Raleigh, pero este año nuevamente se realizara la tradicional eucaristia en honor a las contribuciones de la comunidad Hispanas.
"Bendito sea Dios que este año podamos reunirnos nuevamente, porque el año pasado no pudimos hacerlo y las celebraciones son parte de nuestra cultura",dijo el obispo Luis Rafael.
"Siempre estamos buscando oportunidades para celebrar y esa es la belleza de nuestra cultura, que nos gusta pasar tiempojuntos. Nuestra fe nos invita a compartir y nos invita a celebrar en la Eucaristía nuestro amor a nuestro señor Jesús", agregó el Obispo.
Las Diócesis de Raleigh volverá a celebrar la Misa de la Herencia Hispana este año el sábado 16 de octubre en la Cathedral Holy Name of Jesus. Some de las parroquias de nuestra Diócesis también  organizarán  sus propias celebraciones, incluida  la Misión san Juan Diego  en  Robbins, Carolina del Norte, donde habrá una  celebración del Día de la Independencia de México con una misa seguida de un festival el Sabádo 18 de Septiembre.
Para obtener más información sobre la Misa de la Herencia Hispana, visite el Calendario Mensual de las Diócesis.