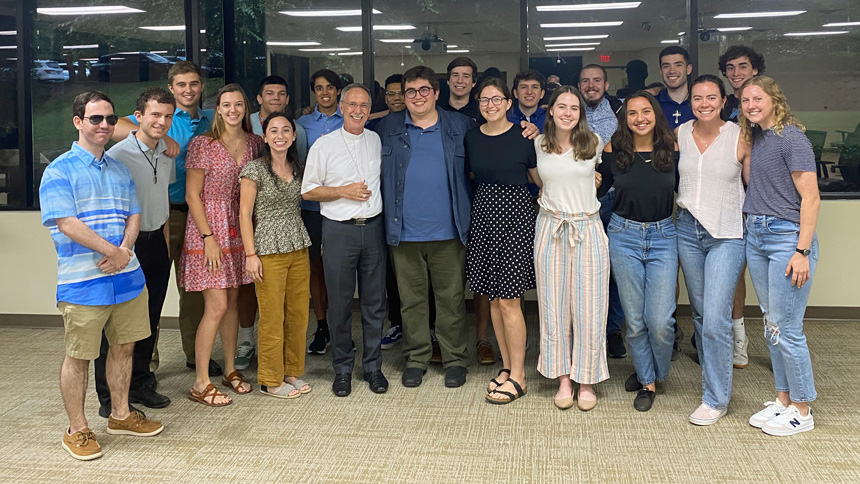 RALEIGH – Classes don't start till Aug. 22, but some Catholic students from N.C. State University are already preparing for a productive semester. About 20 members of NCSU's Catholic Campus Ministry visited Bishop Luis Rafael Zarama Aug. 11 at the Catholic Center, the administrative office of the Diocese of Raleigh.  
Father John Curran, L.C., chaplain of CCM, helped organize the event to give the students and their bishop an opportunity to be together. The group asked the bishop questions, and the conversation included topics such as joy, advice for those taking mission trips, difficult choices and the bishop's own college experience.
Bishop Luis encouraged those present to take the time to build a relationship with Jesus, just as they take time to study and prepare for social events in their lives.
"Sometimes we like to make our faith so formal that it's boring," the bishop smiled. "We're serious, yes, sometimes. But it's about the relationship with Jesus and experiencing his love … pray, but don't seek the 'perfect prayer.'"
The bishop encouraged students to make choices for themselves rather than making choices to seek the approval of others.
"It was wonderful getting to speak so personally with the bishop and witnessing his genuine heart for every person in his care," said student Megan Rogers, a senior from Wake Forest. "He showed us how loved and supported we are. He truly loves with the gentle, yet fervent, heart of the father."
Learn more about CCM.
Photos