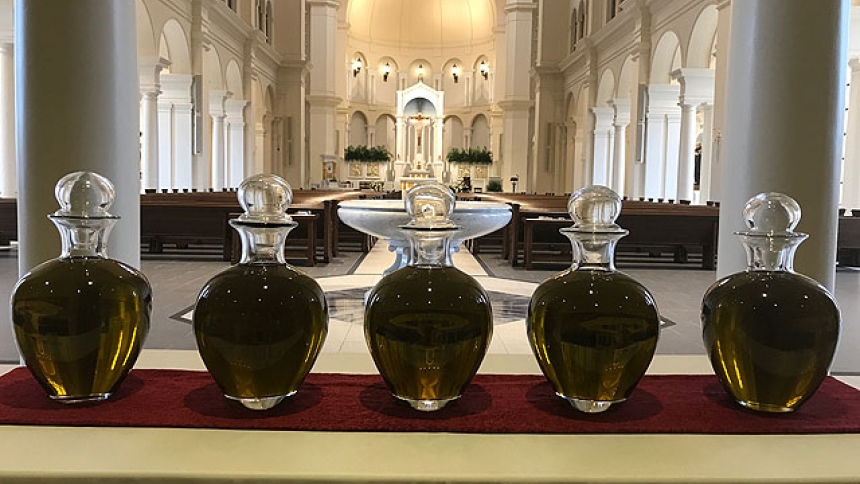 For some, it was their first time at chrism Mass. For others, they were continuing a long tradition of worship. For everyone gathered, however, the historic celebration took place somewhere new  – Holy Name of Jesus Cathedral.  
The cathedral, which was dedicated in July, hosted its first chrism Mass on a rainy March 27 afternoon that saw more than 2,000 people walk through the church doors.
Alexander Temple, who sang in the choir during Mass, was one such person.
"I just thought it was a beautiful opportunity … the chrism Mass [and] the blessing of the oils that are used for sacraments throughout this year," he said. "All of these things are going to unify … all in one single Mass they all come together." 
Celebrated annually, chrism Mass is one of the most solemn and important liturgies of the year. During the Mass, the bishop blesses the oil of the catechumens and the oil of the sick. He consecrates the sacred chrism, which is used in the sacraments of baptism, confirmation and holy orders.
The Mass brings together representatives from each parish, campus ministry and mission in the diocese. It also celebrates the ministry of priests serving in the diocese.
More than 120 priests renewed their commitment to service and resolved to unite themselves more closely to Christ and to "be faithful ministers of the mysteries of God." Bishop Luis Rafael Zarama and the priests received applause when the bishop gestured toward the priests gathered and said simply, "I love them."
During chrism Mass, two priests were incardinated, a process by which a priest joins a diocese. Father David Chiantella, administrator of St. Mary Church in Garner, and Father Francisco Javier Garcia Gonzalez, parochial vicar at St. Catherine of Siena Church in Wake Forest, officially became priests of the Diocese of Raleigh.
In his homily, Bishop Luis Rafael discussed why oils are consecrated, as well as how each day should be greeted with hope.
"What we celebrate here is the mystery of love," the bishop, who was installed in the diocese in August, said. "In sharing what we are we can celebrate who we are with the joy in the Gospel and go out in hope." 
During Mass, volunteers representing 15 different parishes served as urn bearers. Each person carried a large, clear urn of olive oil to Bishop Luis Rafael, who added sacred chrism and blessed the mixture. Each urn weighed about 20 pounds and held more than six liters of oil, according to Paula Zanker, coordinator of the Office of Divine Worship.    
Zanker added that the urn bearers were lay people and deacons and were chosen for their work in RCIA, ministries that serve the sick and healthcare.
A second team of volunteers – 20 of them – served in the chapel and bottled the sacred oil. It's a tradition that Teres Scofield, of St. Luke Church in Raleigh, has participated in for eight years. Scofield's task included making sure that there was one bottle for each parish and one small bottle for each priest to use when he travels and visits the sick.
For her, the idea of celebrating the Mass inside a mother church, rather than a parish church, added excitement to the day. (For the last two decades, the diocese celebrated chrism Mass in a parish church rather than its former cathedral, Sacred Heart, because of seating capacity.)
"It's kind of like this is the first time we get to have it at 'home,' so it is definitely exciting," she said. "It has been such a great experience. A rewarding experience. I just feel really blessed … really blessed to do this."
Chrism Mass was streamed live via YouTube for those who wanted to watch it in real time but were unable to attend.
Mandy Howard contributed to this report
Watch Bishop Zarama's Homily