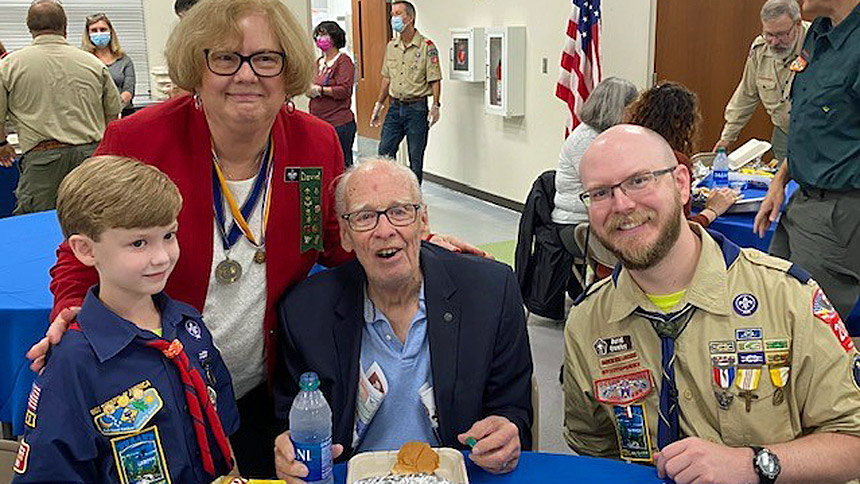 APEX - On Saturday, Oct. 9, Scouts and Scouting supporters from throughout the Diocese of Raleigh gathered at St. Andrew Church to celebrate the first ever Mass of Thanksgiving for Catholic Scouting.
The event was an opportunity for the diocese to gather and give thanks for scouting activities, which encourage Catholic youth to do their duty to God and to their country and build a culture of goodwill and respect for the environment. Participants were especially thankful that scouting activities are returning after the pandemic postponed many events.
Mass was organized by the Catholic Committee on Scouting, which oversees Catholic Scouting in the diocese, including the Religious Emblems Program and the Annual Catholic Scout Camporee. The annual camporee, which was suspended due to the pandemic, returns March 11 – 12, 2022.
Father Scott McCue, pastor of St. Thomas More Parish in Chapel Hill and the diocesan chaplain for Scouts, celebrated the liturgy. Following the Mass of Thanksgiving, the local Knights of Columbus Council provided food and an opportunity for fellowship.
Next year's Mass of Thanksgiving will take place Saturday, Nov. 5, 2022, at 10 a.m. at Holy Name of Jesus Cathedral. Bishop Luis Rafael Zarama will be the principal celebrant.
For more information, visit the Diocese of Raleigh Catholic Committee on Scouting website.
Photos