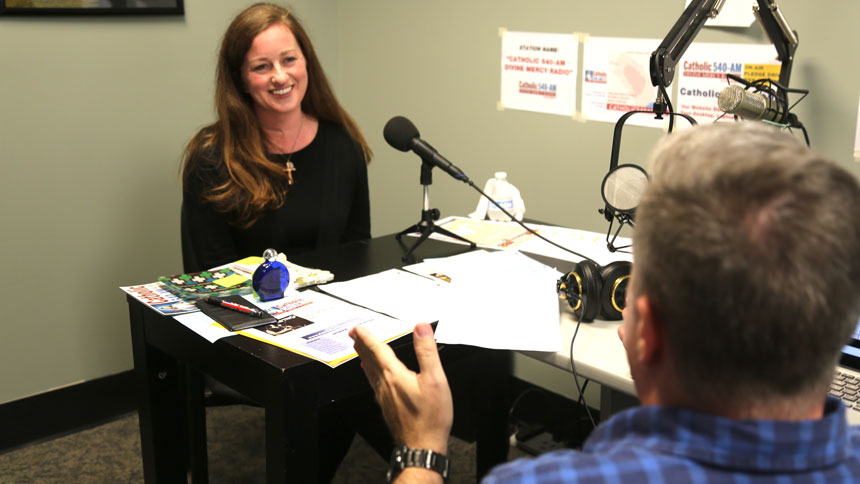 How do we maintain connection while we are apart?
The question and its creative answers are a resounding theme arising from the coronavirus pandemic and suspension of public Masses.
One connection that is especially missed is the one we have with our local parish priests.
Catholic 540-AM Divine Mercy Radio hopes that one of its new programs can help fill that void.
"Meet the Priest with Mandy Howard" is a local program that interviews priests from throughout the Diocese of Raleigh about their ministry and their lives.
Peter K. O'Connell, director of programming for Divine Mercy Radio, says he created the program to feature the true dedication and faith of priests, a side that is not often portrayed in day-to-day media.
"The idea for the show actually came about while I was listening to people speak negatively about all priests because of the horrible worldwide child abuse scandal involving Catholic priests. Certainly, the inexcusable direct and indirect actions by some terribly sick and misguided people irreparably harmed countless lives," he says. "But those were a few bad priests in comparison to the thousands of blessed Catholic priests who quietly, humbly and amazingly do parish and charitable works of mercy every day. I wanted to create a radio show for Divine Mercy Radio that highlighted all those good, hard working priests at the parishes within Catholic 540-AM's listening area."
The first program broadcast Fri., March 20, and featured Father Joseph Oji, parochial vicar at St. Michael the Archangel in Cary.
"At the core, the show is about getting to know the priests in our diocese; it's about how they came to be a priest and what their lives are like. But, without fail, after an interview, I walk away with so much more. Learning about their discernment, their joys and their struggles has helped me inform and strengthen my own faith life. That's what I hope for our listeners as well," Howard, who hosts the show and also works in communications for the Diocese of Raleigh, says.
O'Connell adds, "I want people to understand, really understand the 24/7/365 commitment priests make to the Catholic Church, parishes and our communities. Priests not only make a lifelong commitment to the Church in body, mind and spirit, but the daily workload can be pretty overwhelming too. 'Meet the Priest' helps share those stories with each priest we interview -- and every story is wonderfully unique."
Using teleconferencing tools, production continues for the program, and new shows will air monthly.
On Fri., April 24, at noon, listeners can meet Father Bernard Kayimbw Mbay, CICM, pastor of Maria, Reina de las Americas in Mount Olive and Santa Teresa del Nino Mission in Beaulaville. The show will also air Sat., April 25, at noon and Sun., April 26, at 1 p.m.
Previously broadcast episodes and other local programs can be found on the Divine Mercy Radio website, www.Catholic540am.org.