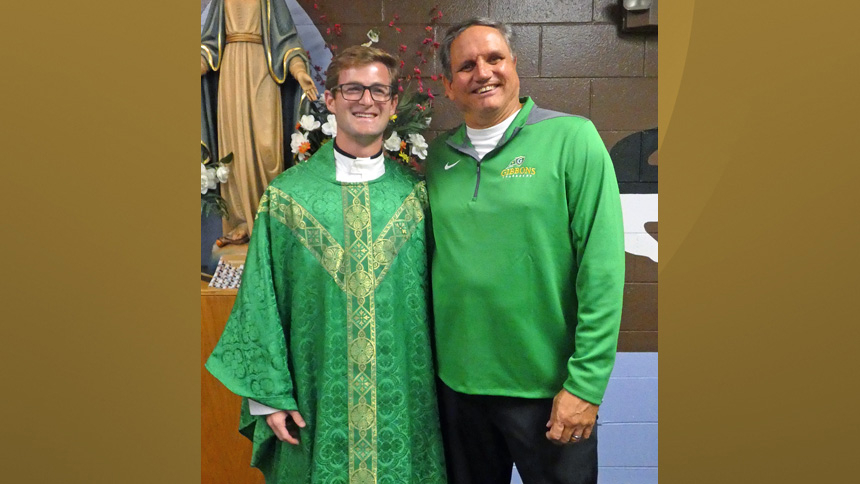 This year at Cardinal Gibbons High School, newcomers will not just be the freshmen students but also their chaplain. Father Luke Rawicki, LC, from the Legionaries of Christ, was recently appointed as the new school chaplain by Bishop Luis Zarama.
"An incredible grace." Father Luke uttered those words on Sunday, May 8, 2022, during the homily of his first Mass as an ordained Roman Catholic priest. "He used those three words to describe his call to be ordained a priest," explained Gary Meyerl, director of spiritual life at Cardinal Gibbons High School, who attended Father Luke's ordination to the priesthood in Rome.
According to Meyerl, the primary role of the chaplain at Cardinal Gibbons High School is to be present to and accompany the students, educators and Gibbons families on their journey and help them encounter Christ along the way.
"Having Father Luke with us at Gibbons daily will enable him to grow with us as a community and minister to our students, educators, and our families sacramentally, ministerially and through his being a shepherd to this flock in the Diocese of Raleigh," concluded Meyerl.
Father Luke was born in New Orleans as the third of six children and lived most of his young adult life between Louisiana and California.
"We moved around a lot between Houston, Australia, San Francisco, then later in Bakersfield, California. More recently, during my 13 years as a Legionary, I've been in Connecticut and Rome, and also the Washington, DC, area; Monterrey, Mexico, and now here at Cardinal Gibbons," he said.
He has lived and worked at several different assignments in preparation for the priesthood. "One of them was in Washington, DC, working with young people in school, camps and taking them on missionary trips. I enjoyed helping young people become Christian leaders," said Father Luke.
On Thursday, July 21, Father Luke celebrated his first Mass at Gibbons with a small group of Gibbons students, parents, educators, including the Head of School, Jeff Bell and Gary Meyerl. After the Mass, Father Luke expressed his gratitude.
"I'm a new priest and in a new place with a new job and a new mission. So, it's all very new. This time is very important and unforgettable for me, it's also a huge blessing," he said.
"The church, the bishop, the Legionaries of Christ, my superiors are entrusting this mission to me. They are entrusting to me these 1,600 students to be their spiritual father, as their chaplain. This means a lot. It's very humbling that they're giving me this very important responsibility. And at the same time, I trust a lot in God that he's going to give me everything it takes to do it and to let him touch the lives of these students," concluded Father Luke.
Photos