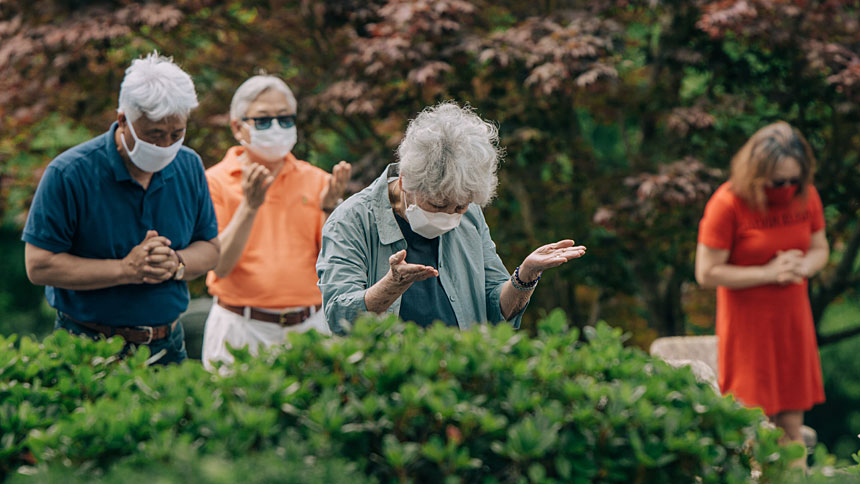 On a humid Sunday morning in Fayetteville, I climb out of my car at St. Elizabeth Ann Seton Catholic Church and grab my camera gear. Donning my homemade face mask, sunglasses, a photography bag and multiple cameras, I make my way to a marked section of the church parking lot that will be used as an outdoor worship space.
Inwardly smiling, I know I must look like quite the sight. Ladies and gentlemen, I quietly mutter, welcome to our new normal.
Today, I'm present to document the celebration of outdoor Mass at two of Fayetteville's Catholic parishes, St. Elizabeth Ann Seton and St. Andrew Kim.
While speaking briefly with Father Jack Kelly, the lively, 10-year pastor of St. Elizabeth Ann Seton, I observe parishioners sanitizing their hands on their way to their socially distant spaces, where they set up their lawn chairs and umbrellas. The community present buzzes in anticipation of the start of Mass and the reception of Holy Eucharist -- a privilege in light of the coronavirus pandemic.
Following the liturgy, I walk around and visit with members of the congregation, one of which is a forty-year parishioner and Methodist University's Head Baseball Coach, Tom Austin.
"It's been an amazing experience to be able to participate in the celebration of Holy Eucharist alongside all our fellow Catholics. This season has been really difficult for a lot of people so the opportunity to attend Mass outdoors is a step in the direction of normalcy for us," Austin explains. "When you can gather as a community, the entire experience of Mass is that much more powerful."
I couldn't agree more. Quickly wrapping up my time with Austin and his wife, Jill, I then rush toward the center of Fayetteville where the small Korean Catholic community of St. Andrew Kim Parish is preparing for their first outdoor Mass by praying the Rosary.
My windows are down as I pull into the parish parking lot and I hear people praying.
Hail Mary, full of grace …
I quietly close the door of my car, adjust my stuffy mask, and climb the steep hill to where Mass will be held in front of the open doors of the church.
The Lord is with thee …
Rosary beads slip through the fingers of 30 mask-adorned parishioners sitting in chairs that are placed six feet apart.
Blessed art thou among women and blessed is the fruit of thy womb, Jesus.
I take in the scene before me and reminisce on the days when I was a little girl and attended Mass here with my Korean-American family.
Holy Mary, mother of God. Pray for us sinners.
Now, and at the hour of our death.
I wave at a family friend and find a discreet place to shoot from.
Amen.
The air of reverence is breathtaking as Father Sanghyun Lee kisses the altar, bows in respect to those in attendance, and then welcomes his parish back after several months at home. I exhale and Mass begins.
I tell myself that these are the days when history is made, future saints come into being, and communities are reborn. This is the new normal.