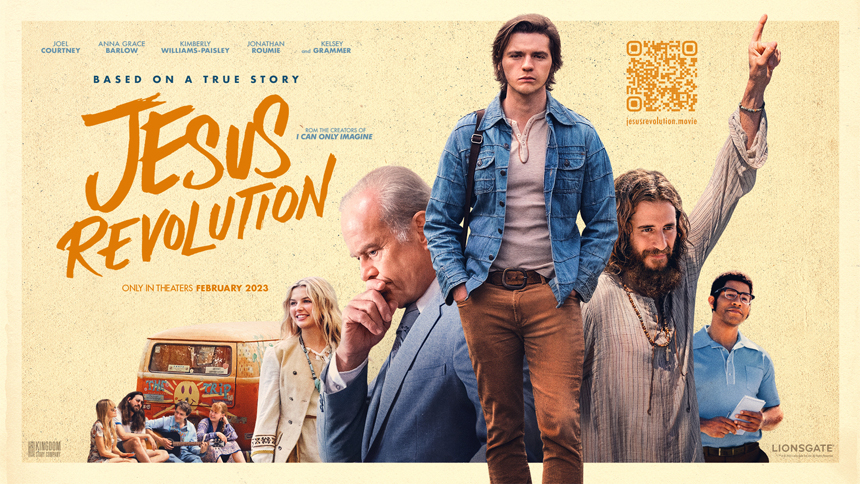 The movie Jesus Revolution is an interesting mashup of talent, with Frasier star Kelsey Grammer and The Chosen's Jesus character Jonathan Roumie as the leads. Grammer plays a grumpy pastor who experiences a transformation of heart and openness to new ideas while Roumie plays Lonnie, a zealous hippie who has a passion for sharing the gospel, the love of Jesus, and is endowed with charismatic healing gifts.
What Catholics should look for in Jesus Revolution
Jesus Revolution tells the true story of a movement that began in the late 1960s, which aided thousands upon thousands of young people to give their lives to Christ. The movement itself is evangelical, which might make this movie difficult for devout Catholics to watch. A cringe-worthy moment is holy communion in the Calvary Chapel, where everyone has a small shot glass of wine, and Pastor Chuck Smith (played by Grammer) proclaims from the pulpit, "This represents Christ's blood." The movie also portrays adult baptisms in a body of water as a moment of accepting Christ. Those who have watched evangelical theatrical releases in the past and have a strong foundation in their own Catholic faith should be able to overlook these theological differences and still appreciate the story and message of Jesus Revolution.
The church that Chuck Smith pastors is aging out. He gets up to the pulpit and points out the moral pitfalls of the time. He is a preacher preaching to the choir. Smith's daughter, a young adult, who he fears might fall into the practices of her peers, meets Lonnie along the road, a Jesus-loving hippie. She brings him home to meet her father, and he begins to attend church and brings along some of his friends. These shoeless, non-traditional believers begin to cause consternation amongst the elder members. One of them tells Pastor Chuck that "They have to go home. They are making the congregation uncomfortable." Instead of giving in to these demands, Pastor Chuck undergoes a conversion of heart and an openness to having them in the congregation. The church transforms into a haven for the hippies, adapting to their form of worship and preaching. 
A conversion of heart
One theme that I appreciated in the film included the storyline of conversion of heart. Everyone arrives at a point in their life when they decide they have to make a serious change. For some it could be eating habits and exercise, overwhelmed with being overweight, they know they have to make changes. The same is true for the moral life. After living a life of dissipation, a person becomes unsatisfied, realizing there must be something more, and decides to abandon their former way of life in favor of gospel living. This theme becomes a storyline of Jesus Revolution.
Another significant theme that resonates with any believer is the confusion of voices. The world tells us to do one thing, but the gospel tells us to do something different. In a noisy world, it becomes difficult at times to hear the truth and to decide to follow and live it.
A sense of community is also found within the film. Preached from the pulpit, congregants hear, "If you feel judged, ashamed, or trapped, you will find forgiveness and freedom right here. This is your home. You are welcomed here." The movie reminds us that as sinners we are welcomed in God's house, and as Catholics, we know that through the sacraments, we truly do experience forgiveness and freedom.
For those in a relationship, the movie will also remind them to think of the role God has in their relationship. The priority of God will deepen each other's love as seen in the storyline.
Jesus Revolution also emphasizes the pitfalls of a charismatic leader and the devils they face in their life. If a person comes to faith because of a human person, they might easily become disappointed when that person falls from grace. Instead, it is important to place our faith in a divine person, Jesus, who is our savior.
Jesus Revolution is the story of an evangelical movement. It is quite clear that the movement brought people to Christ and changed their lives. The gospel was preached. And people received it. As a Catholic, one can appreciate how God can work through other faith movements, but it should bring us to a point of praying that such adherents will one day know the fullness of the truth contained in the Catholic Church and to receive the promise of John 6, of eating Christ's body and blood.
Father Looney's rating of Jesus Revolution
7/10 - A great lineup of talent. Overall, a good message. Rated lower due to protestant theology.