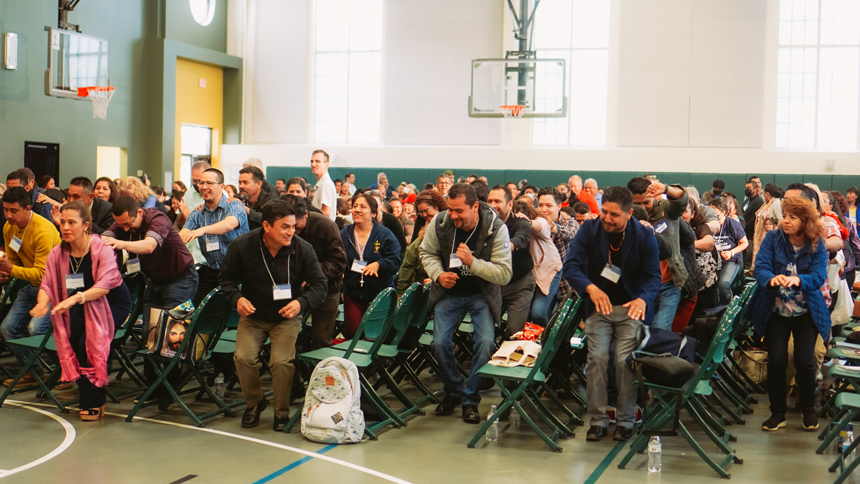 For Xochitl Martinez, the pandemic brought certain things to light. For one, she said she saw how fragile life is.
On a professional level, though, it was an opportunity to approach serving God in a new and different way.
Martinez is the coordinator of Hispanic Adult Training, which is part of the Diocese of Raleigh's Faith Formation ministry. She is part of a group of people at the diocese working to help train and support those who teach faith formation at the parish level.
While the pandemic brought some negative implications for faith groups, the Office of Evangelization and Discipleship of the Diocese of Raleigh viewed it as an opportunity to promote virtual learning and provide new ways of sharing the Good News.
"The confinement led us as a Church to promote new ways and methods to live our faith, strengthening hope and being more charitable to each other. During this situation, God has summoned us to honestly and seriously consider moving from a Christianity of customs to one that emanates from the experience and transmission of true witnesses," said Martinez.
The desire to reach more people as well as fulfilling the practical objectives for evangelization during the pandemic led Martinez, with the support of diocesan director of Faith Formation, Patrick Ginty, to begin the work of visiting each Hispanic parish community to offer a new approach to virtual catechesis training for Spanish speakers.
More than two years after the pandemic began, Hispanic leaders from throughout Eastern North Carolina met on the campus of St. Raphael Church in Raleigh to be part of a retreat titled "Called to Shepherd."
The event was led by Father Ernesto Maria Caro of the Archdiocese of Monterrey, Mexico, who is the founder and director of Active Evangelization, an institution dedicated to spreading the Gospel through social media and educating Catholics virtually.
Presenting Jesus
Nearly 150 people in the diocese accepted the invitation to participate in virtual training during the pandemic, becoming certified in the Abreme program, which translates to "Open me" in English.
And more than 300 people recently participated in the retreat led by Fr. Caro.
"Before entering the seminary, I was an engineer," explained Father Caro. "That is why I think in a very structured way and that is why I was born to build a program of evangelization. The first question was, 'how would St. Paul have done it?' That's why I thought we had to first present Jesus and say who he was."
In this way, Father Caro's video course of evangelization was created. According to Father Caro, the Catholics who lack a commitment to their faith may be in that situation because they received the sacrament of Confirmation without a deep catechesis that led them to know and love Jesus himself. It's the type of experience that leads people to make a deep, personal choice for Jesus.
During the retreat, Father Caro spoke to the catechists, those teaching faith formation in parishes to both children and adults. He emphasized the idea of knowing those whom we are catechizing. Teaching them isn't enough, he said. But listening to their needs to create bonds and grow as a community in Christ is most important.
"More than talking about catechism, we must speak of transformation," said Father Caro. "I invited you, I formed you and now I give you the food to move forward."
Retreat attendee Susana Velázquez Vera, of Immaculate Conception Church in Clinton, has been a volunteer leader for her Hispanic community for more than 10 years.
Married for more than two decades, and mother to three sons (ages 20, 16 and 8), she said she has tried to always be learning and at the service of her community. She is currently in charge of the Open Me program in her parish.
"I'm very tired, but it's beautiful," said Velázquez. "The body may get physically tired, but really what encourages you is that beautiful thing that you feel to serve and offer that tiredness to God."
Among the leaders attending the retreat was Cristina Baena, Hispanic Ministry assistant at St. Thomas More Parish in Chapel Hill.
Baena had a new understanding of the call to not just be leaders, but to learn to be pastoral. 
"It requires that we take an interest in the people we are in charge of," said Baena, "Not only to teach them the Gospel but to guide them, so that just as the shepherd gives his life for his sheep, we must watch over our own flock. Part of our work now is to know in-depth the people, in their health, in their family situation and in their others who are part of their 'vine.' A catechist is just going to give his class, he goes out and goes, but the pastor works with them; that's what we're all called to do."
Roberto Arellano, who has been a member of St. Stephen Parish in Sanford for more than 20 years, also embraced the pastoral approach presented through the Abreme program.
He believes that his interest in being an integral part of the Church was born after participating in a St. Andrew Evangelization retreat in 2011. (The St. Andrew School of Evangelization is a Catholic ministry of lay people and clergy who evangelize and proclaim the Gospel in the model of the apostle St. Andrew.)  
Arellano works in a food production factory, and in his spare time he works with a youth group at his parish called Respeto, as well as the St. Andrew Evangelization School (in Spanish it's called  Escuela de Evangelización San Andrés.) He is also a reader at Mass and helps with Catechesis. 
He said he had challenges during childhood, but as he healed, he became closer to the Church. Today he feels at home dedicating himself to serving the faith community.
"We usually have in mind only bishops and priests as our shepherds and religious leaders," said Father Caro. "But the image of Jesus, of his identity and mission: to lay down his life for the people of God, for the world, for the sheep; it is proposed, for every human being."
Joseline Quiróz, who has been serving as a volunteer for more than 14 years at Holy Family Parish in Elizabeth City, was another of the leaders invited to the retreat who also shares an interest in serving her community in an integral way.
"We have learned that ongoing formation is very important, that the work we are called to fulfill is not our own but following the work of God," she said. "We have learned that our role within the Church means having a community for which we are responsible and here we all help," said Joseline.
Father Caro asked that all Catholics, as leaders and shepherds, need to take an interest and share the lived experience of one another.
"You have to finally realize that you are part of a communion that is called Church," said Father Caro. "To be in communion with your Father, with your bishop. You are part of a larger body."
It all begins with support
Did you know? Initiatives, such as the retreat and program mentioned in this story, are funded by the Bishop's Annual Appeal. The work of the Office of Evangelization and Discipleship is also funded by the BAA.
Photos