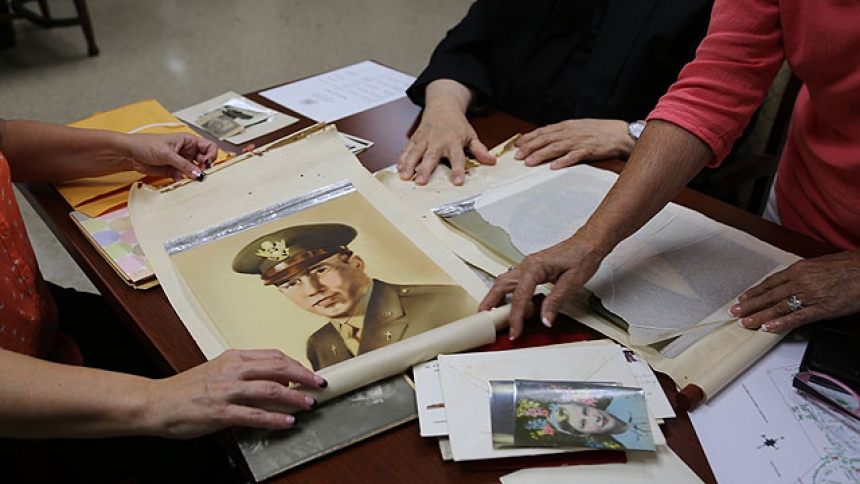 A couple months ago, Ginger Barrow was on a "memory share trip." Her travel companion: her daughter Margaret Lyle. Her starting point: Atlantic Beach, Florida. Her destinations: Raleigh and Little Washington, which is situated in Beaufort County.
North Carolina wasn't new to her. After all, her father, Ernest Edelen, was raised in its capital city. And she was married in Raleigh's Our Lady of Lourdes Church in 1964. [Then] Father Jerry Lewis officiated on her wedding day and, years later, officiated again at the funeral for her father.
This year, as summer approached, Barrow was on a road trip and looking to visit Father Lewis, who had since become a monsignor. She heard he may know something about vestments, or priest's clothing, that belonged to her uncle, Father Philip Edelen.
While Father Edelen undoubtedly holds a place in his niece's heart, he holds a unique place in diocesan history, too.
As a child in the 1920s, he attended school at Sacred Heart Cathedral. Like his four younger brothers, he was an altar server. According to his family members, he and his brothers joined their mother in nightly prayer as she knelt beside her bed. They prayed so intently, it was said, that one night their father, who was known for pranks, nailed their nightshirts to the wood floor, and no one noticed until they tried to stand up.
As a teen, Philip played football and golf with friends. He attended college and seminary at Mount St. Mary in Emmitsburg, Maryland.
By all accounts, he was the first person from Sacred Heart Cathedral parish to be ordained to the priesthood. He was ordained May 2, 1940 at the cathedral, and a reception was held at his parents' home, less than a mile from the church.
Today, 78 years after that ordination, Barrow cherishes an original invitation, which features a chalice emblem at the top of heavy white paper. On the back of the invite, her grandmother -  Father Edelen's mother, Mildred - had handwritten in cursive the dates and times of both the beginning and end of her son's pre-ordination retreat.
Father becomes captain, chaplain
During the first years of his priesthood, Father Edelen served at parishes in Southern Pines and Burlington. But, like his younger brothers, he wanted to join the effort during WWII and asked for permission to serve as a chaplain in the U.S. Army.
"I was just a baby [at that time.] They said he shipped out when I was six or eight months old to go overseas," Barrow said, noting that her uncle Philip met her once, when she was an infant, at the family's Raleigh home.
Father Edelen's priestly ministry took him to Europe, where he ministered to American soldiers
"According to the reports we have  … [Father Edelen] was one of the most active of the chaplains. He was out with the soldiers, he was hearing confessions, he was anointing them … he was right there," Monsignor Lewis, diocesan archivist, said.
While serving, Father Edelen sent numerous letters home to his mother and his father Philip, who made a living as a cash register salesman. Father Edelen wrote to Bishop Eugene McGuinness as well. Once-a-month communication with the bishop was protocol, according to Nancy Brown, another niece of Father Edelen's who has studied her family's history.
"[Before the invasion] being an officer, a captain, he knew something was coming," Brown, whose father Ruey was Father Edelen's brother, said. "In those letters to the bishop  … written in Ireland during training … the words he used were of a 'big maneuver,' and he asked the bishop to pray for him."
On June 9, 1944, while ministering to troops during the Normandy Invasion, Father Edelen was struck in the head by shrapnel from an exploding mortar shell. He died the next day.
In July 1944, Brown said, the family received a telegram about his death. And, months after that, Father Edelen's youngest brother, Neale, was killed in pilot's training in Florida.
"My family relied on God. Totally," Brown said, reflecting on how she viewed her grandparents' grief and how they lived their lives.
As adults, Brown and Barrow have both visited their uncle's grave at the Normandy American Cemetery, a place their grandfather visited, but their grandmother never did.
Today, Barrow is careful to answer when asked if she's proud of her uncles' service and her family's faith.
"I am not the only person who went through what I went through growing up … having relatives pass away in the service," she said. "On my trip to Normandy, there were 99 other people on that tour with me, and they were there for a reason also. Am I proud? I hope that shows … but I don't want to use the word bragging. There were thousands and thousands of others."
Inside the Issue
Video about Father Edelen