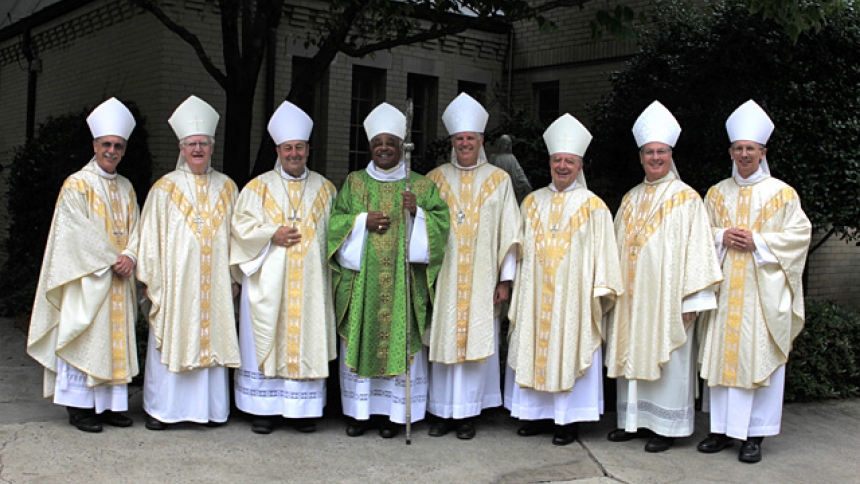 CHARLOTTE — The Catholic bishops of the Atlanta Province gathered for their annual meeting June 25-27, this year held in Charlotte.
The Atlanta Province encompasses the Archdiocese of Atlanta and the four dioceses of Charlotte and Raleigh, N.C.; Charleston, S.C.; and Savannah, Ga.
In his homily during Mass June 26 at St. Patrick Cathedral, Archbishop Wilton Gregory of Atlanta focused on the day's reading from the Gospel of Matthew (Mt 7:6, 12-14) in which Jesus quotes the "Golden Rule": "Do unto others whatever you would have them do unto you."
"Jesus doesn't give us simply wise statements," Archbishop Gregory said. "He gives us a pathway to life. He's telling us – bishops, laity, clergy, faithful – don't just repeat those words, live them."
"It's not simply enough for us to be able to quote the Golden Rule," he said. "It's not something to be spoken. It is something to be lived."
Bishops taking part in the meeting were: Bishop Luis Zarama, Bishop of Raleigh; Bishop J. Kevin Boland, Bishop Emeritus of Savannah; Bishop Robert Guglielmone, Bishop of Charleston; Archbishop Wilton Gregory, Archbishop of Atlanta; Bishop Bernard Shlesinger III, Auxiliary Bishop of Atlanta; Bishop Joel Konzen, S.M., Auxiliary Bishop of Atlanta; Bishop Gregory Hartmayer, OFM Conv., Bishop of Savannah; and Bishop Peter Jugis, Bishop of Charlotte.