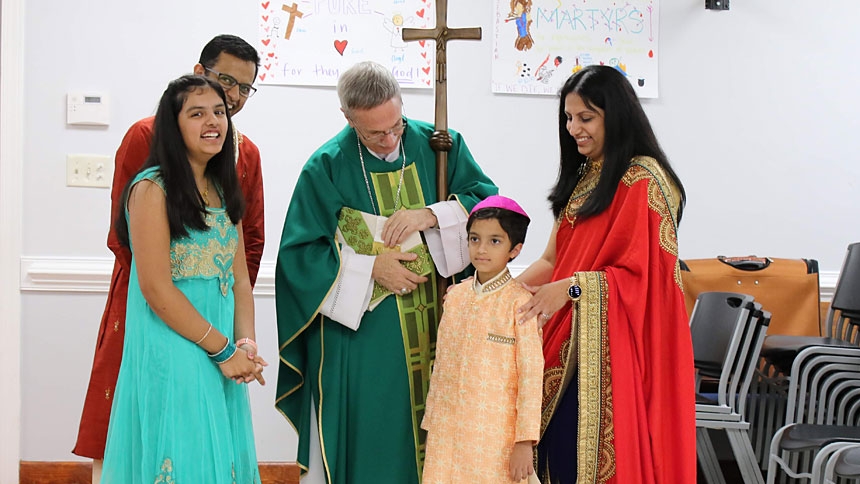 Once a month the Tamil Catholic Community gathers for Sunday Mass at Lourdes Matha – Syro-Malabar Church in Apex.
At the Mass celebrated Oct. 20, the community welcomed Bishop Luis Rafael Zarama for the first time.
Bishop Luis Rafael delighted the congregation by beginning the Mass with part of the prayer in Tamil, the language spoken by the community.
Tamil is the name for both the language and the people of Southern India and Sri Lanka. The RTP Tamil Catholic Association, a non-profit organization formed by Indian Catholic parishioners, organizes the monthly Mass.
The goal of the RTPTCA is to worship together in Tamil and to provide religious instruction to support Tamil culture and heritage. Though RTP references the Research Triangle Park of North Carolina, the RTPTCA has members from throughout the state as well as from Virginia.
Lazar Arulnayagam of RTPTCA said, "All the members of the association were very excited and thrilled and consider ourselves blessed to be in the presence of the Bishop."
Bishop Luis Rafael was principal celebrant and homilist for the celebration. He celebrated alongside Tamil priests Father Gnana Pragasam and Father Kuriakose.
Afterward, the community gathered for a potluck dinner, which included traditional Tamil fare, and took photographs with Bishop Luis Rafael.
Photos