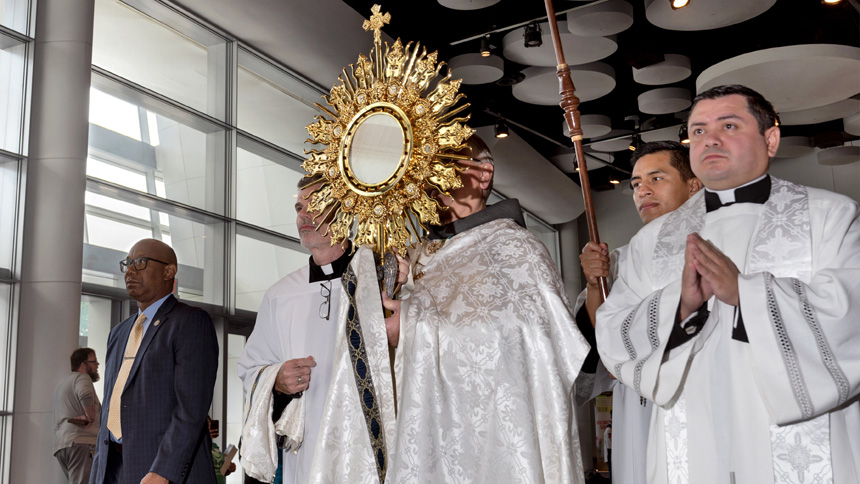 Above: Archbishop Gregory J. Hartmayer of Atlanta carries the Blessed Sacrament at the the Georgia International Convention Center in College Park, Ga., June 18, 2022, on the last day of the archdiocese's 25th eucharistic congress. (CNS photo/Johnathon Kelso, The Georgia Bulletin)
---
The Archdiocese of Atlanta's Eucharistic Congress recently returned after the COVID-19 pandemic prompted cancellations in 2020 and 2021.
During the two-day event, Archbishop Christophe Pierre, the pope's ambassador to the United States; Cardinal Blase J. Cupich, the archbishop of Chicago; and several bishops, including Bishop Luis Rafael Zarama of the Diocese of Raleigh, joined in the celebration. Six languages were spoken among the invited speakers, clergy and lay women and men. Deacon Dennis Dorner, who leads Atlanta's Eucharistic Congress Steering Committee, said this year's attendance was an estimated 15,000 people. Pre-pandemic event attendance climbed as high as 30,000.
The Atlanta event is part of a national effort by the American bishops to promote a better understanding of the Eucharist in the life of the Church. It culminates in a National Eucharistic Congress scheduled for 2024 in Indianapolis. Here in the Diocese of Raleigh, leaders are discussing the potential for a local Eucharistic Congress in 2024, the same year the diocese will celebrate the 100th anniversary of its founding.
Bishop Andrew Cozzens of Crookston, Minnesota, is the chairman of the bishops' Committee on Evangelization and Catechesis and is leading the three-year national revival.  "The bishops have called overwhelmingly for the country to join together in this time, to join together to deepen our love for the gift that Christ delivers, to deepen our understanding, to deepen our devotion and then to share this greatest gift we have ever received," said Bishop Cozzens.
The bishop said the gift of the Eucharist is a sign of how Jesus "wants to provide a spiritual answer to so many of the problems and pains of our day, the struggles of our time, the great division, great pain, struggle with the culture of death."
Source: The Georgia Bulletin
Bishop Zarama's address to the Eucharistic Congress (Spanish)