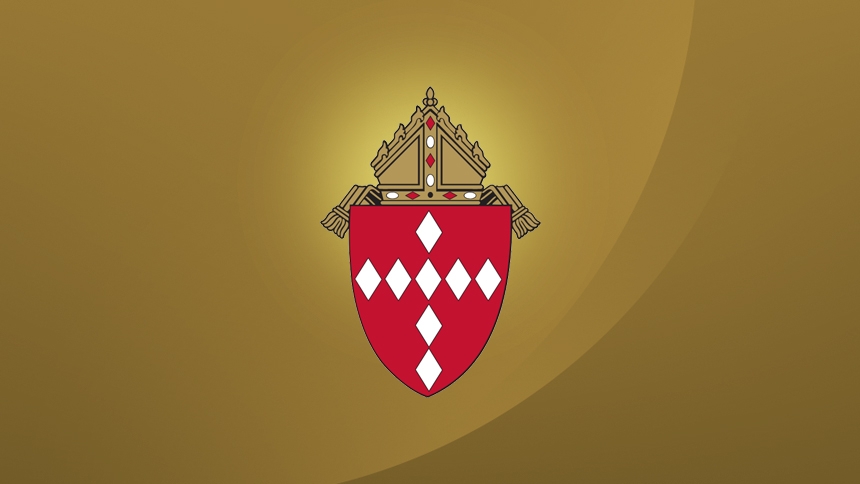 Bishop Zarama has appointed Monsignor David D. Brockman vicar general and moderator of the curia of the Diocese of Raleigh. Monsignor Brockman served as vicar general under Bishop Michael Burbidge from 2007 until Bishop Burbidge was assigned to Arlington in October 2016.
The vicar general is a priest appointed by the diocesan bishop and assists him in the ordinary executive governance of the diocese, in accord with the norms of Canon Law (see canons 475-481). He is to have at least a licentiate in Canon Law or Sacred Theology.
In the Diocese of Raleigh, the vicar general is a member of the executive staff of the diocesan bishop and provides administrative support to the vicar for priests and to the Office of the Permanent Diaconate.
Monsignor Brockman will continue to serve as pastor at St. Catherine of Siena Catholic Church in Wake Forest.
Born in Chicago, IL, the Reverend Monsignor David D. Brockman grew up in Glenview, IL. He is the youngest of three children and is the son of Dr. and Mrs. David D. Brockman, M.D. Following in a three-generation family tradition, he attended and graduated from Furman University in Greenville, SC.
After graduation, Monsignor Brockman pursued graduate studies at the University of South Carolina School of Medicine in the Department of Microbiology and Immunology. Following graduate studies, he began work in North Carolina and also began discerning a vocation to the priesthood.
Monsignor Brockman attended St. Mary's Seminary and University in Baltimore, MD, earning a Master of Divinity, a Bachelor of Sacred Theology, and a Licentiate in Sacred Theology.
Ordained June 30, 1990, at Our Lady of Lourdes Catholic Church in Raleigh, Monsignor Brockman served as Pastor of St. Luke the Evangelist Catholic Church in Raleigh and St. Patrick Catholic Church in Fayetteville.
In October 2004, following the completion of a Licentiate in Canon Law at the Gregorian University in Rome, Italy, Monsignor Brockman was appointed adjutant judicial vicar. He was appointed vicar general of the Diocese of Raleigh on July 10, 2007. On August 18, 2008, His Holiness Pope Benedict XVI named Monsignor Brockman a Prelate of Honor with the title Reverend Monsignor.