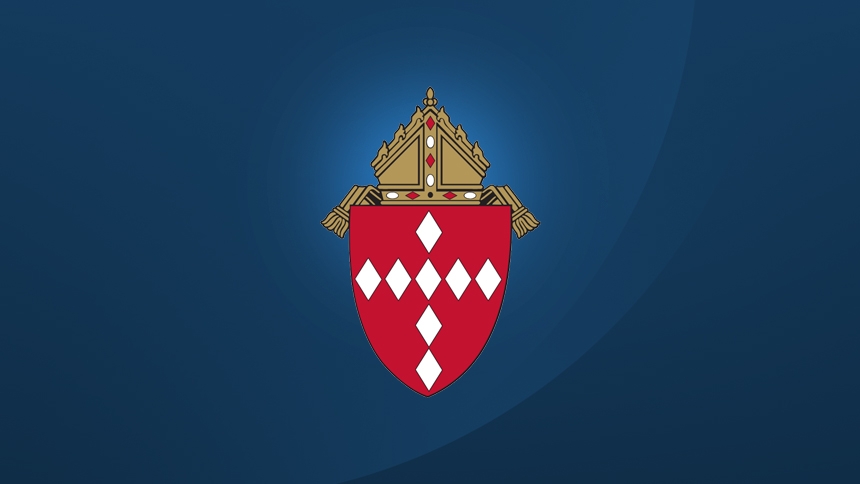 RICHMOND, Va. (CNS) -- Bishop Francis X. DiLorenzo of Richmond died at a hospital late Aug. 17. He was 75.
A native of Philadelphia, he was named the 12th bishop of Richmond by St. John Paul II March 31, 2004. Before he was appointed to the Virginia diocese, he was the bishop of Honolulu. He also was a former auxiliary bishop in Scranton, Pennsylvania.
"He was a faithful servant of the church for 49 years and a shepherd of the Diocese of Richmond for 13 years," said Msgr. Mark Richard Lane, vicar general. He said he was announcing the bishop's death "with great sadness."
Bishop DiLorenzo was one of the first to call for peace during the chaos- and hate-filled weekend in Charlottesville, when white supremacists holding a rally clashed with counterprotesters Aug. 11 and 12. The events led to the deaths of three people and injuries to more than 19 others. His first statement Aug. 11 was followed by a second one the next day.
"In the last 24 hours, hatred and violence have been on display in the city of Charlottesville," said Bishop DiLorenzo. "I earnestly pray for peace."
In a statement about his passing, Bishop Michael F. Burbidge of Arlington said that over the years he knew Bishop DiLorenzo "as a devoted man of God."
"He has always been highly regarded for his firm grasp of the church's moral teaching and as a pastoral leader," he said in a statement. "We share the bond of having been ordained priests of the Archdiocese of Philadelphia and of serving as rector of St. Charles Borromeo Seminary. He will be dearly missed."
"During my tenure in the Diocese of Arlington, it has been a privilege to serve and collaborate with him," said the bishop, who was installed to head the Northern Virginia diocese last December. Before that, he was the Bishop of Raleigh, North Carolina.
"I respected and admired his zeal for Christ, his pastoral skills, and his administrative abilities," Bishop Burbidge said. "His joy for the Catholic faith was evident to everyone who knew him or witnessed his devoted service to God's people."
Baltimore Archbishop William E. Lori remembered Bishop DiLorenzo as a "good moral theologian," an "excellent seminary rector" and a bishop who "cheerfully did whatever the church asked of him."
The archbishop had known Bishop DiLorenzo since the late 1980s, when Bishop DiLorenzo was named auxiliary bishop of the Diocese of Scranton.
"He had a personality that was larger than life," said Archbishop Lori, who had worked with Bishop DiLorenzo more closely in the past five years after being named archbishop of Baltimore. The Diocese of Richmond is part of the ecclesiatical province of Baltimore.
"He had a wonderful sense of humor," Archbishop Lori said. "He was a realist who understood how to face difficult situations, but he always brought good things out of these situations."
Archbishop Lori recalled that when he heard his friend's health was not well earlier in August, he called him.
"He said, 'You know, I looked over my medical record and found I had never had viral pneumonia before,'" Archbishop Lori recalled. "He said, 'I thought I had better have that at this time in my life, and so that's what I got.'"
Even a serious illness was taken in stride and "with a lot of humor," Archbishop Lori said.
Born April 15, 1942, Francis Xavier DiLorenzo was the son an Italian-American butcher and a homemaker. He was ordained a priest for the Archdiocese of Philadelphia in 1968 and served in pastoral and educational assignments until 1971.
In Rome, he earned a licentiate in sacred theology in 1973 from the Academia Alphonsiana and a doctorate in sacred theology in 1975 from the Pontifical University of St. Thomas Aquinas.
Then-Father DiLorenzo served as chaplain and instructor in theology at St. Pius X High School, Pottstown, Pennsylvania, from 1975 to 1977. In 1977, he was appointed chaplain and associate professor of moral theology at Immaculata College.
In 1983, he became vice rector of St. Charles Borromeo Seminary, becoming rector two years later. In 1988, he was named auxiliary bishop of Scranton.
He was appointed apostolic administrator of Honolulu Oct. 12, 1993, when Bishop Joseph A. Ferrario, head of the diocese since 1982, retired for health reasons. On Oct. 4 1994, he became the bishop of Honolulu.
At his Mass of installation to head the Richmond Diocese, Bishop DiLorenzo told the 1,200 people in the congregation that he saw his role as servant leader in which he has to preach and teach the Gospel of Jesus.
"As a follower of Jesus and a bishop in his church, I should imitate his example and be a servant leader," he said.
On the national level over the years, he had been a member of the U.S. Conference of Catholic Bishops' Administrative Committee, the Committee on Doctrine and an Ad Hoc Committee on Bishops' Life and Ministry. He was chairman of the conference's Committee on Science and Human Values. He helped launch a series of teaching brochures on the relationship of science and religion and on bioethical issues such as genetic testing and screening of embryos.
- - -