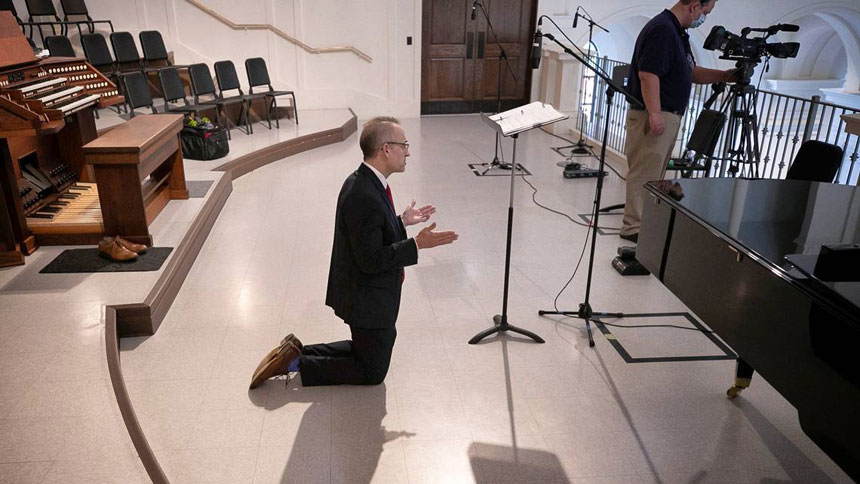 Above: Pierre LaPierre kneels to receive Holy Communion at the Holy Name of Jesus Cathedral during Palm Sunday Mass on Sunday, April 5, 2020, in Raleigh, N.C. LaPierre is a cantor, performing from the balcony in the empty Cathedral, and was served communion by Deacon Juan Banda. Photo credit: News & Observer by Robert Willett, rwillett@newsobserver.com.
---
Bishop celebrates Palm Sunday in empty cathedral
The following story by Andrew Carter was originally published on The News & Observer website. It is shared here with permission.
In the minutes before the start of 10 a.m. mass on Sunday at the Holy Name of Jesus Cathedral, the church bells began to ring. It was Palm Sunday on a crisp spring morning — not a cloud in a clear blue sky, and hardly a car in the parking lot.
In more normal times, said Monsignor David Brockman, the rector of Holy Name of Jesus, late-arriving parishioners would have been fortunate to find seats inside. There's room for 2,000 people in the cathedral, and every pew would've been filled to capacity.
But now, on Sunday, signs posted on the doors warned that the building was closed because of the COVID-19 pandemic. Inside, the 62 pews in the cathedral's main wing sat empty. Minutes before 10 a.m. Brockman and others prepared to deliver mass to an empty building.
Similar scenes played out throughout the Triangle and around the country on Sunday morning, amid social-distancing and stay-at-home orders designed to slow the spread of the virus. At Holy Name of Jesus, in west Raleigh, two technicians were on hand to livestream two morning services to an online audience.
"When I was having the mass today, I felt the challenge to celebrate with nobody here, physically present," said Bishop Luis Rafael Zarama, who is the sixth bishop of the Diocese of Raleigh. "But it's a consolation that it's a way to be in touch" with parishioners.
The scene inside the cathedral on Sunday made for an eerie yet poignant service. Amid the still quiet of rows of empty pews, the instrumental pipe organ hymns somehow sounded louder. A cantor sang in the balcony, near the organist and a cameraman, who wore a mask over his face.
Down below, on the ground level, the space was decorated for the beginning of what is Holy Week in Christianity. A cross stood near the back of the sanctuary. Below it, on either side, were containers of palm fronds for Palm Sunday.
When Brockman and Zarama and others began their procession toward the altar, down the center aisle, they slowly walked between two tables, each with two dispensers of hand sanitizer sitting on top. Then mass began, voices echoing throughout with every hymn and reading.
Zarama could not be sure how many might be watching online. He learned later that thousands had tuned in. Holy Name of Jesus is the largest church in the diocese, and the service there on Sunday represented the entire diocese.
Zarama looked out in front of him on Sunday morning and missed the sight of people. And yet, in one way, he was thankful that those who might have ordinarily attended mass might instead be spending more time with their own families.
"We were living lives in which we were not in touch with each other," he said. "...The most beautiful gift that we have been able to enjoy at this time is that families have been coming together. There's more time to be with the people that we love.
"There's more time to be sitting with the people and having a conversation."
Brockman, meanwhile, was still getting used to conducting for an internet congregation while the building sat empty. Holy Name of Jesus opened in July 2017. It is full on most Sundays, and overflow crowds fill it beyond capacity on Christmas and Easter.
He figured it would have been like that on Sunday, too, at the start of Holy Week. Instead, the baskets of palms remained full, as did containers overflowing with church bulletins. There was a camera down below, and one up above, the men who stood on the altar talked often of faith.
Now more than ever, the messaging felt more important.
"We feel so insecure, afraid, concerned," Zarama said. "And that is the reality that we are living. But in the middle of all of this, like in Holy Week, this is not the end.
"And the beauty of this is that this situation that we are living, because of the pandemic, is helping us to see our own way out. We don't have control of it. ... But that is faith. Faith is trusting in someone who can guide us, and let us see there is something better."
News & Observer video
---
Watch Masses and homilies
Palm Sunday - Full Mass in English
Homily: Father John Kane
---
Palm Sunday - Full Mass in Spanish
Homily: Bishop Luis Zarama