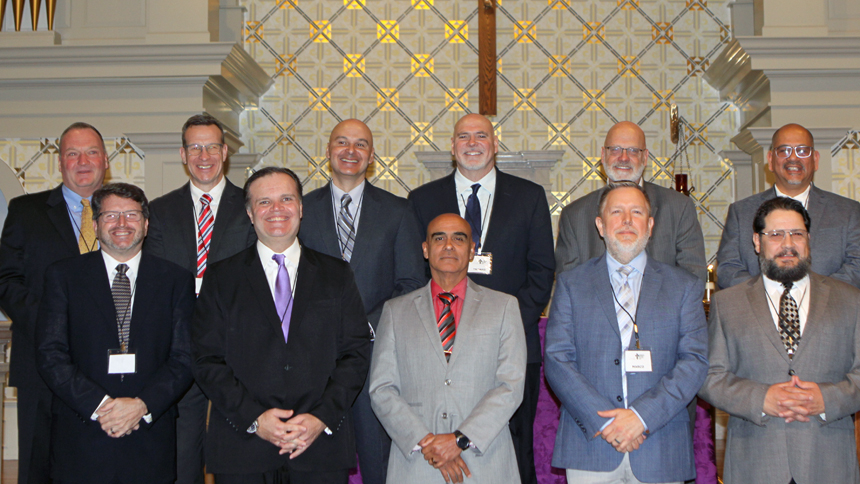 CARY, NC - Eleven faith-filled men took a step toward ordination as permanent deacons for the Diocese of Raleigh during a Mass, celebrated by Bishop Luis Rafael Zarama, that included the Rite of Candidacy on March 11 at St. Michael Catholic Church.
During the rite, Bishop Zarama accepted the men to enter the candidacy phase of the process in pursuit of becoming permanent deacons. The Rite of Candidacy is the first official recognition of the positive signs of a man's vocation to the permanent diaconate. Over the next two years, these men will receive theological and pastoral formation and upon completion will be called to ordination as permanent deacons.
During his homily, Bishop Zarama spoke about the importance of preparing to become active members of the Church and invited the future deacons to bring joy to the holy Mass. He told them they cannot come to the church with faces of "chiles and vinegar." Instead, he said, each one of us should be happy to be part of the Holy Mass.
"You need your hearts to let Jesus serve you and guide you in his love," said Bishop Zarama.
Since married deacons fulfill their ministry as fathers and spouses as well as deacons in the Church, Bishop Zarama invited the future deacons to focus on serving their own families first before dedicating their time to helping others in the Church.
During the rite, the 11 men were called forward and, standing before the bishop, publicly resolved to complete their preparation for Holy Orders and to prepare themselves in mind and spirit to give faithful service to Christ and his body, the Church.
The bishop then accepted their resolve, saying, "May God who has begun the good work in you bring it to fulfillment."
For these men, the journey to the permanent diaconate began two years ago. They completed a year of application and a year of reflection and discernment. Now, as candidates, they will enter a more intense period of pastoral and theological preparation.
One of the candidates was Antonio Rodriguez Mymi, a parishioner from St. Teresa del Niño Jesus in Beulaville, NC.
"I want to help the priests and the Church to serve the people of God," Rodriguez said. "There are many people who can't attend Mass or receive Jesus because they are stuck in nursing homes or prisons. Becoming a deacon will give me more education and more hope from the Holy Spirit to bring Jesus in the Eucharist to those who are unable to attend Mass due to illness or disability."
At the end of the Mass, the future deacons and their families had an opportunity to greet the bishop and take pictures to remember this important day as they continue their path to becoming permanent deacons in the Diocese of Raleigh.