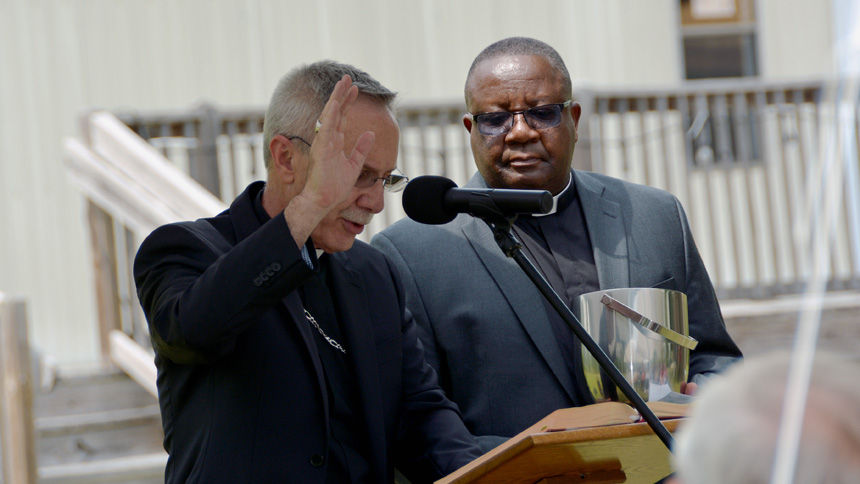 HAMPSTEAD – On May 5, Bishop Luis Rafael Zarama visited the All Saints Parish community, where plans are underway to build a 750-seat church to accommodate a growing faith community in eastern Pender County.
Bishop Luis gave his blessing to the land where the new church will be built and congratulated the parish community for their efforts to collect the necessary funds to make the new project possible.
"All of you are able to see that the current church is not what you need, the need is seen and felt by the community and that's why all of you embark on this project," said Bishop Luis during the ceremony.
Under the name of Living Our Faith, the Building to Serve campaign, $3.1 million in donations and pledges have been collected. Rick Spillane, facility chairman at the parish, walked with Bishop Luis on the land where construction was approved to take place.
"We are now ready to move to the stage of finalizing our architect contract," Spillane said. "Once we get that done, then we'll be able to move into the contracting phase … [and] construction bids. We'll also be able to start our permitting in the site approval process with the county and the state. We went to some recently constructed churches in the diocese, and some that are kind of in the early stages of planning, pretty much where we are now. By doing that, we're able to take a lot of those great ideas."
Spillane said that creating a space where live streaming can take place, as well as classroom and meeting space, is important.
The expanded facilities will allow the growing parish to accommodate the current parish community and new residents to the area. The church expansion is expected to start in March 2023.
"We are making history. As we build this church and expand our facilities, more people will have a place to call their spiritual home, and to they will come and share the love of God," said Monsignor Joseph Ntuwa, pastor of All Saints.
Eastern Pender's Catholic presence and community service began in 1953 when St. Mary's Gate of Heaven, a small mission church, was established in Surf City. The Surf City location continues to serve as a summer ministry. In the 1990s, St. Jude the Apostle Parish was established at the current site on US Hwy 17 N in Hampstead, with a multipurpose worship space and some offices. The name of the parish was later changed to All Saints.
"One of the blessings of this project is to have one of the founders of the parish, and the beauty is the presence of the church in this county and you were not looking for your needs but for the future presence of the church here," said Bishop Luis.
Spillane agreed. "We're building this because we need it now," he said. "But it's also for the generations coming after us. And that's really kind of the legacy that we can leave."
Photos