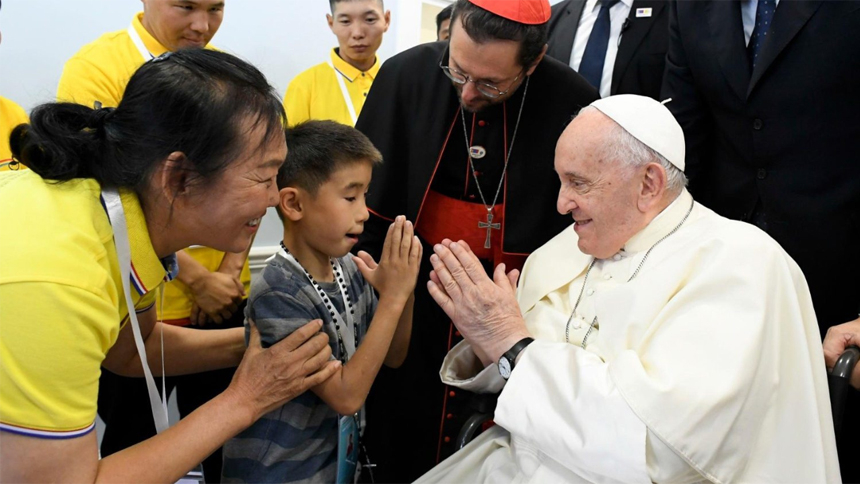 Pope Francis' best messages during his trip to Mongolia
Pope Francis' trip to Mongolia included some special moments, such as his visit to the woman who found the statue of the Virgin Mary in a garbage dump. The statue is now in the cathedral of the capital city.
There are less than 1,500 Catholics in Mongolia. Many are missionaries who the pope encouraged to continue their evangelizing work despite the difficulty of being in a country with a very different culture. At the end of a meeting with the missionaries, he greeted them all, one by one.
Mongolia also shares a border with China. So the pope's gesture of taking the hands of the former and current bishops of Hong Kong held particular significance.
"These two brother bishops: the emeritus of Hong Kong and the current bishop of Hong Kong," he said, "I would like to take advantage of your presence to send warm greetings to the noble people of China. To the entire population, I wish you all the best and go forward. Progress always. And to Chinese Catholics, I ask you to be good Christians and good citizens. Thank you."
Mongolia is situated between China and Russia, so many were expectant to see what the pope would say in his political speech to the local authorities. He used his speech to urge for universality.
"Dark clouds of war pass, be swept away by the firm will for a universal fraternity in which tensions are resolved on the basis of encounter and dialogue," Pope Francis said.
Francis became the first pope to ever visit Mongolia. Although the Catholics are few, he was given a warm welcome by all.
Best images from Pope Francis' trip to Mongolia
Pope Francis traveled to Mongolia for the 43rd international trip of his papacy. His 4-day trip included experiencing the country's unique culture and many personal encounters with the small community of Catholics in Mongolia.