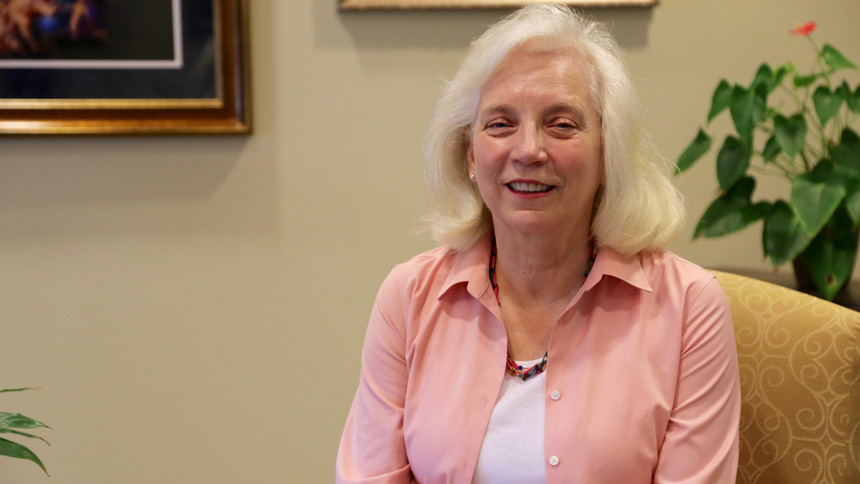 Bea Callery, known for both her intelligence and loving spirit, died May 29, 2022. She was 73. 
She spent decades serving others in the Diocese of Raleigh. As director of Lay Ministry, a role she retired from in 2016 after more than 20 years, she supported parishes, catechists and other volunteers. But she spent years in other roles as well. She worked at Sacred Heart [then] Cathedral from 1980 – 1990 as an administrative associate. And she could often be found in the choir loft sharing her voice as a choir member.
Later in life, after her retirement, she volunteered at her home parish of St. Raphael in Raleigh.
It was there that a funeral Mass for her was held June 7.
Monsignor Jerry Lewis was one of the priests who celebrated the Mass, and he offered a homily in which he called her a servant of the Lord.
"We can't be happy when a loved one dies, but we have to be happy for the loved one," he said. "The Lord has called our friend to the kingdom … we have nothing to fear."
Monsignor Lewis discussed how Bea died during the Easter Season, which ended June 5 on Pentecost.
"We come together because we do believe," he said. "Bea was an apostle in her own way. She never stopped working for the kingdom … and we praise that. Our hearts are sad and yet our spirits are filled with joy and are alive with love for God."
During the prayers of the faithful, prayers were offered for many intentions, including for those who serve in ministry.
Bea was known in ministry circles for her deep knowledge and ability to share it with others.
She earned master's degrees in both Theology (from St. John's University in Collegeville, Minnesota) and Comparative Literature (from Purdue University in Lafayette, Indiana), as well as a certification regrading parish life and administration from Loyola University in New Orleans. She earned her undergraduate degree from Dominican College of Rascine, which was in her home state of Wisconsin, but has since closed.
"I knew Bea as a friend and a colleague for the dozen years I worked at the diocese," said Rich Reece, former editor of NC Catholics. "She was a loving woman with the heart of an evangelizer. Bringing the Lord to souls in need was never just a job to Bea, it was her vocation."
Her sister, Mary Callery, noted that Bea was "a lifelong learner with a library you wouldn't believe … she knew a lot, but if she didn't know she knew how to find out."
Mary said that Bea, who was born Beatrice May Callery, had many interests. Traveling was one. As a young woman Bea visited France, and one of her first jobs was teaching at a seminary in Africa.
But perhaps the most important role she played in the lives of others was "bringing them into the family of God," Mary said, noting Bea's many Godchildren and people she sponsored for the sacrament of confirmation.
In addition to Mary, Bea is also survived by many nieces and nephews, as well as her sister Julie Walczak (and husband Walt) of Minnesota. Bea was predeceased by her parents and her brother, John Callery.
"She was in love with her family. Her parents had a great influence on her," said Linda Bedo, who worked alongside Bea at the diocese and later volunteered with her at Note in the Pocket.
"She liked to dance … [and] She was a child of Vatican II always reminding those she worked with of how beautiful our Catholic faith is. She was indeed honest and not afraid to stand up for her faith."
One of Bea's last gifts to others, as she lived with cancer herself, was growing out her hair so it could be donated to a charity creating wigs for those with cancer.