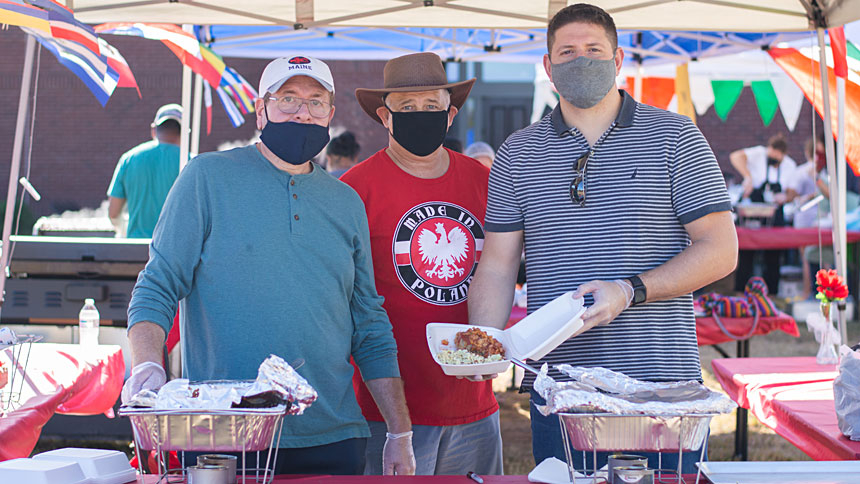 It's a sunny Sunday in Clayton as St. Ann Parish hosts an event that's new, but also familiar. Things are busy as members of the Knights of Columbus direct traffic.
It was 2020 and drive-thru food festivals were a new thing for the parish, which spent the previous 12 years celebrating international food and raising money for the church with one large, walk-up event that drew thousands.
Some things stayed the same for the fundraiser even with its drive-thru status -- colorful tents on the parish greenway, eclectic music and the smell of savory and sweet food. The tents sat in the shape of a horseshoe, each donning a different country's flag. Puerto Rico, Poland, Italy, Jamaica, El Salvador and Mexico were represented.
Volunteers from the parish's youth group could be seen running from cars to the tents holding bags of take-out containers filled with foods from throughout the world.
Parishioner Jim Moyniham, financial officer on the executive committee for the festival, looked around the Nov. 8 event and was enthusiastic about the turnout.
"We've prepared 850 plates for today," Moyniham says with confidence. "That's a lot of food, but I suspect we'll do just fine."
He explains how, every Friday during October, the parish tried out the drive-thru format and prepared for the big event by selling food from one country.
It was part of how St. Ann Parish kept its tradition going. The community also adapted the structure of the festival to abide by COVID-19 guidelines.
Patrons were encouraged to stay in their vehicles, use exact change and wear a mask when placing orders with volunteers. All the years prior, the greenway was usually filled with representatives from more than 20 countries, a little over 100 volunteers and about 2,500 patrons.
Moyniham points out a woman moving swiftly from a car to the money tent and back to the car again.
"That's Ann Grossman. She's the chair of the festival committee and our biggest cheerleader," he says.
Grossman moves easily between cars. She warmly visits with parishioners, introduces her youth volunteers and cultivates community all in a matter of minutes. Then she takes a moment to talk with NC Catholics.
"You know, this year the event is more than a fundraiser," she says thoughtfully. "In a way, it's been an opportunity to bring our parishioners back on church grounds after being away for most of the year."
Referencing things like increased youth participation, loyal parish supporters, and lots of help from volunteers, Grossman is quick to share all the positive impacts of this year's event, which raised $13,750 profit from a calendar raffle and $9,350 profit from the food event, according to the parish.   
When asked about a challenging obstacle she's faced during planning an event during the pandemic, she's slow to answer. It's obvious that she's an optimistic force in the parish committee and wants to choose her words carefully.
When she finally spoke, she smiled and explained, "We've tried to preserve the intangibles of parish life such as a sense of community, but it's been a little hard to maintain being socially distant and welcoming at an event that is built upon cultures in which community is at the center."